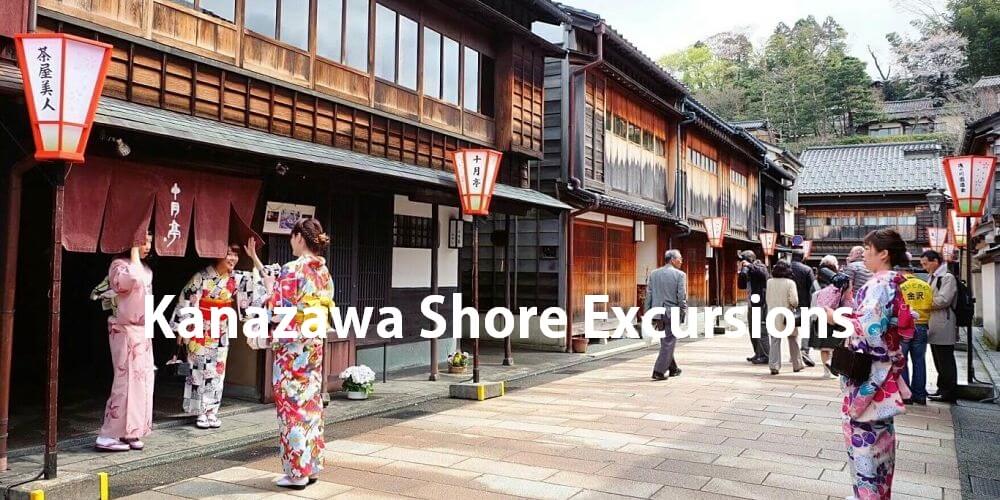 Best Kanazawa Shore Excursions, Day Trips & Tours from Cruise Port
Known as "a miniature Japan", Kanazawa gathers all the quintessential features of Japan from culture, architecture, art to cuisine. Therefore, Kanazawa shore excursions introduce an ideal city to visit and get a glimpse of Japanese traditional culture. Kanazawa once was the second largest city (just after Tokyo) recovering from destruction during World War II. Nowadays, as the capital city of Ishikawa Prefecture, Kanazawa plays an important role in both the economy and spiritual life. Besides, its cultural traditions, especially tea culture and traditional handicrafts such as Kutaniyaki pottery and Wajima lacquer, mark an impression worldwide. The best place to discover these famous handicrafts is Ishikawa Prefecture traditional handicraft museum with over 36 different types. There are plenty of places you can visit in Kanazawa shore excursions to learn about its culture and traditions:
Kenrokuen

– one of three nicest landscape gardens of Japan, home to a variety of colorful flowers, creating a dreamy and romantic, peaceful and clean atmosphere

Kanazawa Castle

– a cultural asset of Japan

Kanazawa art museum

– famous for its unique circular architecture

Higashi Chayamachi

– the most famous Geisha Street lined up by wooden ancient houses

Omicho market

– still locates at the center of Kanazawa over 280 years passing

Wakura-onsen

– the only hot springs in the whole Hokuriku area
Japan Shore Excursions offers the most authentic experiences for Kanazawa day tours from cruise port. After choosing your favorite itinerary, contact us to get your preferred option or plan your customized tour from Kanazawa port.
---
Things To See & Do in Kanazawa
Known as the home to some of the most famous tourist attractions in Japan, tranquil residences and districts, up-to-date museums, exquisite handicraft items along with pleasant cuisine, Kanazawa is a must-visit destination for Japan explorers. Kanazawa Shore Excursions will help tourists figure out historical features blended in the modern atmosphere in this charming ancient castle town of Kanazawa.
Kenrokuen Garden
Firstly, Kanazawa Shore Excursions' experts would like to introduce the highlight of the cruise trip from Kanazawa port – Kenrokuen. Proudly listed as one of the three most beautiful landscape gardens, Kenrokuen is so attractive with an abundance of flowering trees that provide the garden with a different look for each season. In spring, the garden turns into a magnificent scenery created by plum blossoms as well as cherry blossoms. While in autumn, the garden is fully covered with the changeable fall colors of maple trees. Water features, bridges, trees, flowers, stones, viewpoints, and hidden nooks all help to build up a spectacular landscape of Kenrokuen. Especially, there are teahouses in the garden allowing visitors to have a sip of tea and taste traditional Japanese sweets while admiring the surrounding scenery. Also, there is a pleasant pedestrian way lined with cherry trees, shops, and restaurants where visitors can spend some time strolling along and can even see cherry blossoms that are in bloom in spring.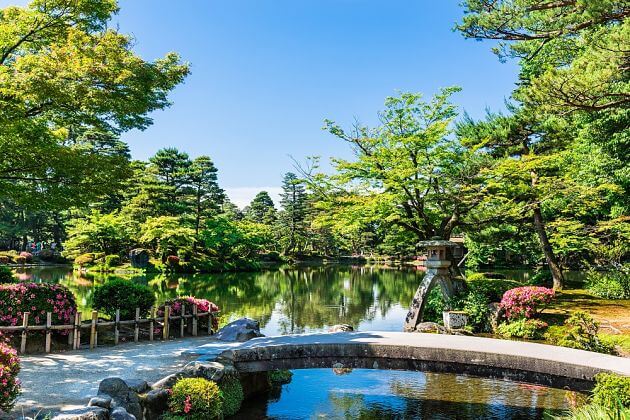 Kanazawa Castle
Once was the seat of the powerful lords of Kaga - Maeda Clan, the castle burnt down many times over the centuries. After that, Ishikawa Gate and the samurai warehouse - Sanjikken Nagaya are the only two survivors from the original construction of Kanazawa Castle. Many reconstructions were made featuring two turrets, a long storehouse, and Kahoku-mon Gate. Then Hashizume-mon Gate and the Gyokuseninmaru Garden were also added in 2015. Nowadays, most of the central structures are standing again and make the visit more interesting. However, its main keep was lost in a fire in 1602 and has never been rebuilt ever since. Besides, visitors can find a pretty garden with a central pond and a circular walking path.
21st Century Museum Of Contemporary Art
A modern feature in your Kanazawa Shore Excursions situated just a few steps from Kenrokuen is one of the most popular art museums in Japan - the 21st Century Museum Of Contemporary Art. It is where exhibits works of artists from Japan and all over the world. Outstanding from its architecture, which helps to distinguish it from other museums and buildings around Kanazawa. The museum involves a circular building without a facade nor the main entrance. In the central hosts some temporary exhibits, which includes one or two concurrently on display. Especially, there are several public spaces containing a library, lecture halls, and children's workshops. There are also many interesting permanent installations such as Leandro Erlich's "Swimming Pool" and James Turrell's "Blue Planet Sky".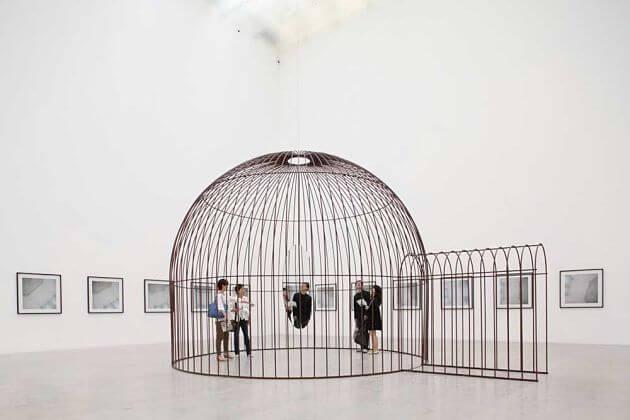 Higashi Chaya District
Higashi Chaya District is the largest and properly the most interesting out of the three well-preserved chaya districts in Kanazawa. It features chaya (teahouse) - an exclusive type of restaurant where guests can enjoy entertainment and performance by geisha. During the Edo Period, chaya was usually found in designated entertainment districts outside the city limits. Now, Higashi Chaya District's Shima Teahouse and Kaikaro Teahouse are open to the public. Lined along the central street are other buildings of house cafes and shops. There is one shop that is called Hakuza, sells gold leaf products, a specialty of Kanazawa, and displays a tea ceremony room which is completely covered in gold leaf.
Omicho Market
Features in Kanazawa Shore Excursions is Omicho Market - Kanazawa's largest fresh food market since the Edo Period. Today, it remains a hustle and bustle streets filled with about 200 shops and stalls. Though most shops specialize in excellent local seafood and produce, visitors can also find and purchase flowers, clothing, kitchen tools and more. Noon is expected to be the most crowded time in the market as it is when tourists and locals arrive to have lunch at restaurants inside the market. Visitors will be likely to fine lines of shops selling rice bowls topped with fresh Kanazawa seafood built in front of the popular restaurants.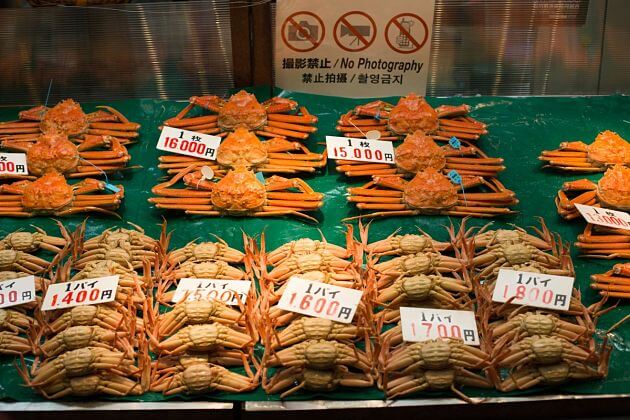 Nagamachi Samurai District
At the foot of the former Kanazawa Castle is the ancient Nagamachi Samurai District which used to be samurai and their families' residences with historic earthen walls, private entrance gates, narrow lanes, and water canals. Locates in the center is one of the main attractions of the district - Nomura-ke - a restored samurai residence displaying the lifestyle and artifacts of samurai's prosperous era. There is also the Shinise Kinenkan Museum - a restored building displaying the lives of the merchant class which rose in prosperity as the samurai declined. Besides, a few other museums and restored structures, as well as some shops and restaurants can be found throughout the district.
Oyama Shrine
Established in 1599 as a dedication to Maeda Toshiie (the first lord of the powerful local Maeda Clan). Oyama Shrine is unique for its extraordinary gate, which was designed by a Dutch architect, featuring elements of European and Asian religious themes. While the first story is a mixture of Japanese and Chinese influence, the upper stories that once were a lighthouse follow a Dutch-style with a stained glass window. The gate originally guarded the entrance to the palace of Kanazawa Castle but was later moved to Oyama Shrine. On the shrine grounds, visitors can take a look at the statue of Lord Toshiie. There is also a beautiful garden with ponds and bridges, designed to resemble harps and lutes.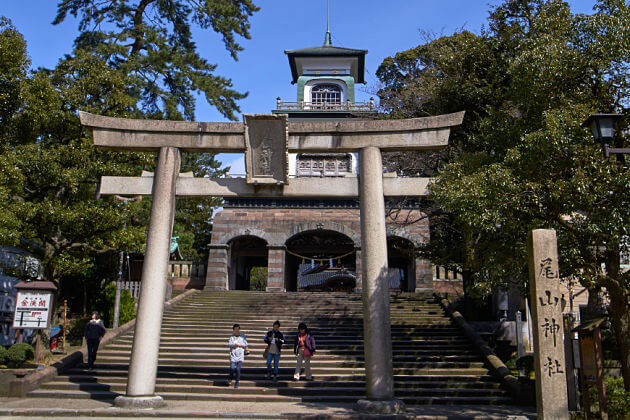 Seisonkaku Villa
Can be found in the southeast corner of Kenrokuen, the Seisonkaku Villa was constructed in the last years of the Edo Period by a Maeda lord for his mother. It is known as one of the most elegant, remaining samurai villas in Japan. Briefly, Seisonkaku is a large structure with several expansive tatami rooms on two floors. The most interesting feature lies in the roof which covers its garden viewing deck. Visitors can directly access to Kenrokuen via the villa.
Ninjadera (Ninja Temple)
Ninja Temple or Myoryuji Temple is situated in the Teramachi District in the south of the city. It was originally established by the Maeda lords during the Edo period. Though not actually associated with ninja, the temple's name is due to its many deceptive defenses. With considerable defenses and escape routes, Ninjadera was designed to serve as a disguised military outpost. The temple's defenses protect it from intruders or attack. That explains why the interior includes hidden tunnels, secret rooms, traps, and a labyrinth of corridors and staircases.