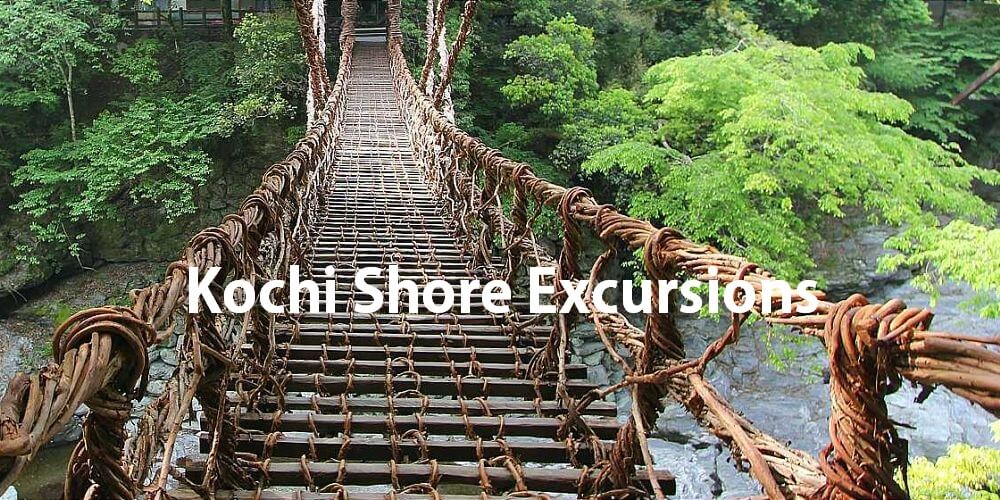 Best Recommended Kochi Japan Shore Excursions, Day Trips & Tours from Cruise Port
Instead of being a cosmopolitan hub, Kochi – the capital of its prefecture – is more like heaven for nature lovers. The reason is that Kochi Japan is an adorable small city with a God-blessed peaceful atmosphere and abundant nature. Along with the beautiful coastline, there are several clear rivers including Shimanto River and lush green forests in the region. In addition, all of them together ingeniously paint lively brush strokes to create a picturesque Kochi. Besides spectacular scenery, Kochi Japan has an interesting culture passing over a long history with dozens of attractions to explore. This historical town is home to ancient Kochi Castle, old sake breweries, traditional markets, and well-preserved railways. Moreover, some hot springs dot Kochi prefecture which is told to relax and bring better health to people. In Kochi Japan shore excursions, visitors can enjoy various activities and a collection of worth-seeing sights.
Kochi Castle

– one of twelve survived castles in Japan, provides a spectacular view with cherry blossoms during spring

Chikurin-ji Temple

– the five-storied scarlet pagoda with beautiful natural theme in spring and autumn

Katsurahama Beach

– not to swim but a place to sightsee over the blue ocean

Iya Valley & Iya Kazurabashi Bridge

– the most magnificent place in Kochi with suspension bridges crossing through the valley and river below

Katsuo no Tataki

– Kochi's most famous dish with lightly broiled slices of skipjack tuna

Kochi Monet's Garden

– the well-known lush abundant garden with numerous exotic flowers and plants.
We offer lots of choices for Kochi Japan shore excursions below. In case you can't find any suitable itinerary, please contact us to tailor-make your own tours from Kochi port in Japan.
---
Things to Do & See in Kochi Japan
It is not exaggerated to say that Kochi is truly a natural paradise. Located along the southwest coast of Japan's Shikoku Island, Kochi is blessed with an abundance of sunshine, soothing waters, and lengthy coastlines. It is home to some of Japan's most famous tourist attractions and historic sights, bustling local markets, interesting festivals, and activities as well as rustic food halls. There is no better way to fully discover this amazing city than to hop on Kochi Japan Shore Excursions. First, let's take a look at some top sightseeing destinations that can be found in Kochi.
Kochi Castle
Kochi Castle was originally built in 1603 and fully rebuilt in 1749. It is one of twelve Japanese castles to have been preserved after suffering from massive destructions and catastrophes of the post-feudal age. The castle once was the seat of the Yamauchi lords who ruled over the neighboring region. Surround the castle are fifteen castle structures, beautiful parks, and a picturesque moat. The castle was designated as "important cultural properties" for storing precious local treasures and historical objects. The keep observatory from the castle tower's top floor offers a nice view of the surrounding downtown.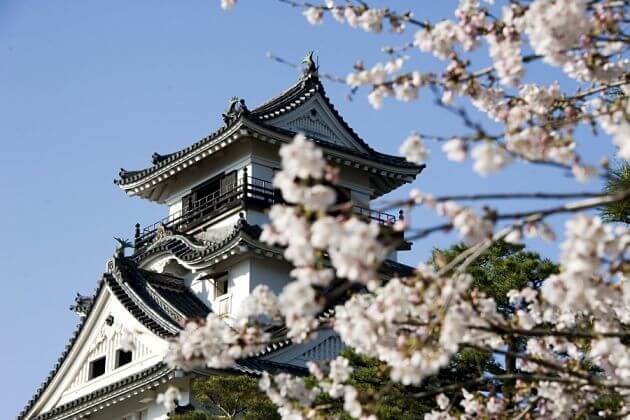 Mount Godaisan
Located to the south of Koichi City is Mount Godaisan. This sacred mountain was named after a Chinese mountain by Buddhist priests visiting from China for the resemblance of overall shape and atmosphere.
Chikurin-ji (Chikurin Temple)
Under the order of Emperor Shomu, Chikurin-ji Temple was established by the Buddhist priest Gyōki in 724. Ranking 31 out of the 88 temples along the pilgrimage, Chikurin-ji attracts not only pilgrims but also students for its reputation as a scholastic institution. Enter from the main hall and visitors are offered a view of the building's interior and a magnificent garden. Its temple grounds involve an array of halls and structures as well as an aesthetic five-storied pagoda. The most outstanding hall perhaps is the treasure hall where several Buddhist statues and displays can be found. Its exterior is peaceful and filled with covered forests and serene, moss-covered gardens.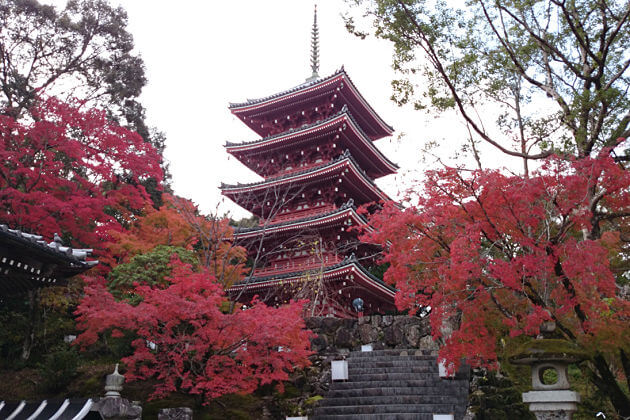 Makino Botanical Garden
Adjacent to Chikurinji is Makino Botanical Garden – a spacious garden named after Dr. Makino Tomitaro, a botanist. Known as one of Japan's leading botanical gardens, Makino includes nearly 3000 species seasonal plants, extensive walking paths, outdoor parks, a greenhouse and several large museum halls full of information and displays on Dr. Makino and his field of study. There is also a conservatory for visitors to nicely enjoy tropical plants, a garden of medicinal plants, and an ornamental plants garden featuring East Asian plants. Besides, visitors can purchase some original goods at the shop available here or experience Kochi's cuisine in Maniko's restaurant.
Hirome Ichiba Market & Katsuo no tataki
Hirome Market is a commercial hub located next to Kochi Castle. It is also where locals and visitors come to satisfy their appetite with not only Kochi's local cuisine but also international flavors. The inside is filled with about 65 street stall-style restaurants, fresh fish and meat shops, beer and local alcohols, souvenir shops, and clothing boutiques. There are lines of tables throughout the market where customers can get takeout from different restaurants and casually enjoy a variety of foods. One of the must-try dishes is katsuo no tataki, or seared bonito tuna. Known as the most famous Kochi's local food, katsuo is served sliced and seared with a touch of salt. If you catch the sight of people drinking during the day in the market, do not need to surprise as it is a common scene in Kochi where the locals are said to be fond of drinking.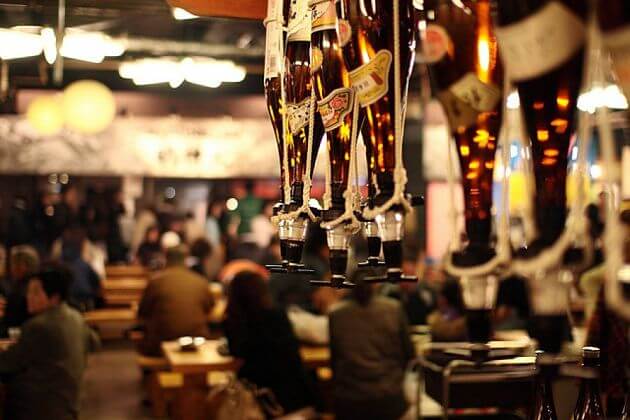 Katsurahama Beach
The next tourist spot that visitors are likely to have the chance to visit in Kochi Japan Shore Excursions is Katsurahama Beach – a scenic beach with various tourist attractions. Since ancient times, Katsurahama Beach has been known as a popular venue for viewing the moon for its stunning landscape full of picturesque spots. Its distinct feature lies in lines of dense and traditional Japanese green pine contrasting perfectly with the blue ocean. Nearby is the bronze statue of Sakamoto Ryoma – one of the architects of modern Japan, a small aquarium, a small shrine that connected to the Sakamoto Ryoma Memorial Museum.
Sakamoto Ryoma Memorial Museum
The museum provides information on the life of Sakamoto Ryoma – a prominent figure from Kochi, as well as precious documents including his handwritten letters, addressed to his elder sister Otome and videos. This is where possesses and exhibits the greatest number of Ryoma's letters in Japan. From the museum, visitors can have a broad view stretching out the Pacific Ocean. Or take some good photos with the statue of Ryoma standing in front of the museum's gate.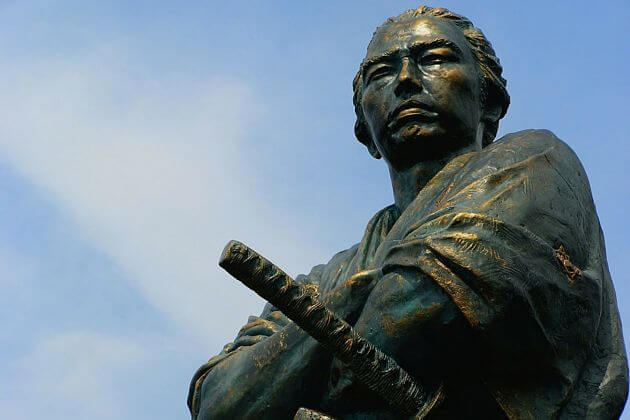 Niyodo River & Nakatsu Gorge
Being one of the two key rivers that help to define Kochi's countryside, this 124 kilometer-long Nyodo River offers a wide range of activities from fishing and swimming to riding a river houseboat (yakatabune) and rafting tours. Best known for the Niyodo Blue, a mysterious flow of cobalt blue from the crystal clear streams, transparent down to the riverbed. The Nakatsu Gorge - the joint meeting of Nakatsu River and Niyodo River - is a popular spot for viewing Niyodo Blue. The ravine with a scenic walking path that weaves between large boulders and crosses the river with stone bridges. There is also a majestic 20-meter waterfall named "Ryudosui" where visitors can have a splendid close-up view. The total trek is around one hour and there is a restaurant just near the opening of the path.
Yosakoi Matsuri
The highlight of Kochi Japan Shore Excursions is enjoying Yosakoi Matsuri – one of Japan's 10 largest festivals. Though not a sightseeing destination, it cannot be missed once tourists have come to Kochi. Known as an energetic and powerful festival, Yosakoi is held every summer from August 19th to 12th gathering dance groups from across the country. You will likely to see a considerable number of dancers in bright and vibrant costumes performing with vivid sounds of "naruko" wooden clappers and music. Visitors are also encouraged to join in the street festivities so this will be your memorable experience. The ceremony often starts with firework displays, visitors can sample the atmosphere of the Yosakoi Festival at the Kochi Yosakoi Information Exchange Center open throughout the year.