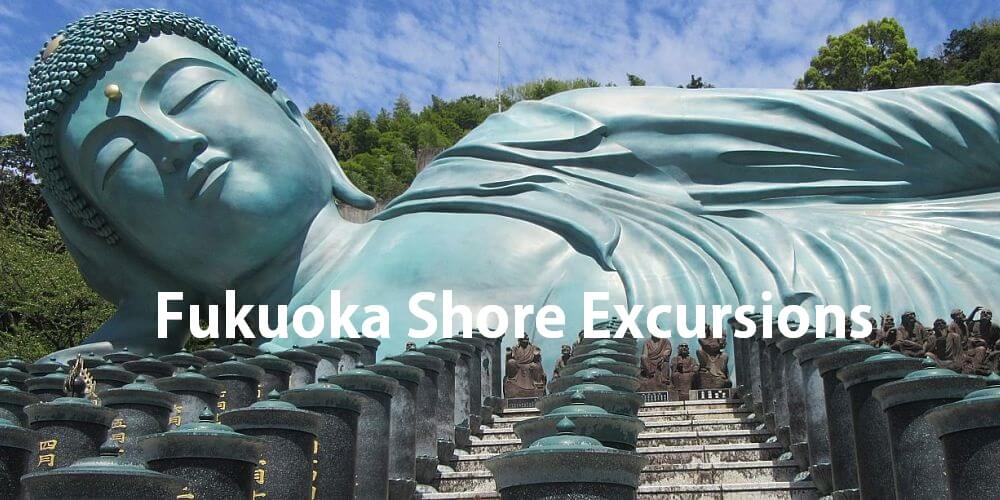 Best Fukuoka Shore Excursions, Day Trips & Tours from Fukuoka Port
Being one of the most populous cities in Japan, Fukuoka is the largest cosmopolitan hub in Kyushu Island. Moreover, this place is a rich cultural city with unique delicious cuisine and various sightseeing attractions. Because of its long history, Fukuoka has observed a collection of historical events of the previous areas. Thus, the city hides many items and artifacts inside tourist attractions such as sacred shrines, ancient relics, and elegant castles. Being the fusion of Hakata port city and the old castle town, Fukuoka has the iconic old merchant quarters, energetic festivals Gion Yamakasa, bustling shopping areas, and crowded food streets which are famous for Hakata ramen and fresh seafood. For your convenience, we would like to recommend the best things to do & see in Fukuoka shore excursions.
Fukuoka Castle

– ruins of the former castle with scenic sights

Kushida-jinja Shrine

– an urban shrine but with old-fashion Japanese architecture

Ohori Park

– enjoy the spectacular natural scenery, especially during spring

Tenmangu Shrine

– listen to its myth of beginning time

Fukuoka Tower

– observe the panoramic view over the city and Hakata Bay
Japan Shore Excursions bring to cruisers a variety of interesting Fukuoka shore excursions to visit city' highlights and areas nearby. Enjoy your time referring our ready-made itinerary for Fukuoka day trips from cruise port, or let us know about your traveling plan. Our travel experts will directly design your tailor-made tour.
---
Best Things To See & Do in Fukuoka
As a regional commercial, industrial, and cultural center, Fukuoka attracts worldwide visitors to discover its ancient collection of temples and shrines with historic pedigrees, energetic festivals as well as scenic landscapes. It is also considered a convenient stop for international visitors as its active fishing port provides access to other popular destinations in Japan such as Karatsu and Dazaifu. Dock at Fukuoka port, join Fukuoka Shore Excursions to be taken to famous tourist attractions of this fantastic city.
Fukuoka Castle Ruins
Lied in the middle of the city in Maizuru Park, after the Meiji Restoration, nowadays Fukuoka Castle remains only ruined walls, a few turrets and parts of the moat system along with some gates and guard towers. It was originally built in the early 17th century by the lord of the surrounding Chikuzen feudal domain - Kuroda Nagamasa. Visitors can take a stroll along the walking trails and enjoy the great view offered by a few lookout points. The best time to visit the castle ruins is said to be between late March and early April when Maizuru Park is coated with the pink color of flourishing cherry blossom.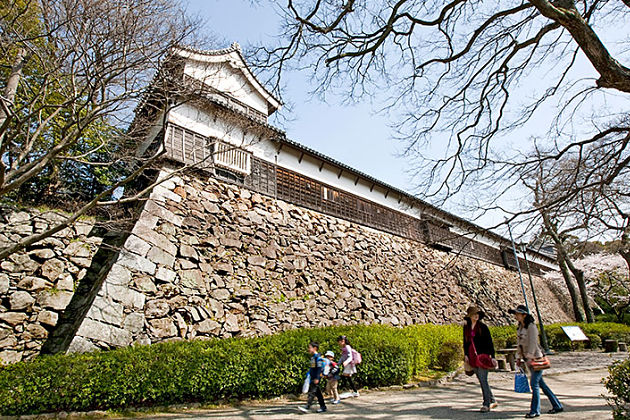 Kushida-jinja Shrine
A must-visit location in Fukuoka Shore Excursions is the solemn Kushida-jinja Shrine. Located in the center of Fukuoka, this long-standing shrine dates back to 757 when Hakata was developing as a port city that allowed delegations from mainland China and Korea. This is also where Fukuoka's two most famous summer festivals, Hakata Gion Yamakasa, and Hakata Okunchi took place. Each of the floats, which are up to 10 meters tall, are decorated with traditional figures and scenes. Among the huge floats, one is on permanent display in the shrine grounds. There are several sub-shrines with distinct style and accouterments, a towering gingko tree said to be over 1,000 years old, tons of statuary, several huge rounded stones said to be anchors from the Mongol invasion fleet. Especially, in the main shrine building, visitors can see some unusual Tengu masks with long Tengu noses.
Ohori Park
This is a lovely city park in central Fukuoka consisting of a large pond at its center. In the middle of the pond, three islands are connected to the mainland and each other by elegant stone bridges. Near the pond, visitors can access Fukuoka Art Museum which involves a large collection of Buddhist statues dating back to the 11th century and paintings and sculptures by modern artists like Miro and Dali. From there, take a few walks to Ohori Park Japanese Garden to enjoy typical features of Japanese gardens such as dry landscapes and tea houses.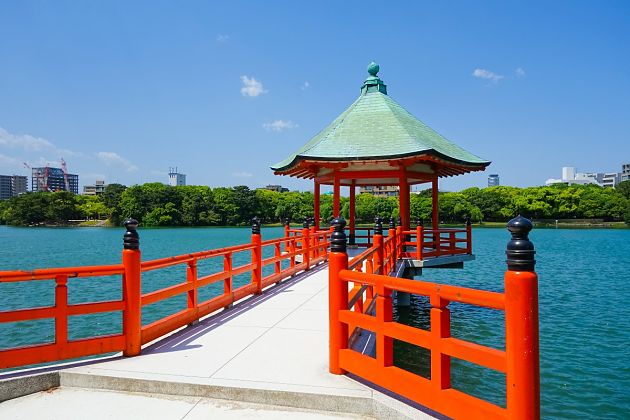 Tenmangu Shrine
Tenmangu Shrine was established as a dedication to a Heian period scholar and politician. It is a large area stretching about 250 meters from one end to the other. Passing through the torii gate at the entrance, visitors will approach a pond that was built in the shape of the Japanese character for "heart". Around the main hall, shops are offering a wide range of good luck charm for visitors. Standing between the pond and the main hall is the Dazaifu Tenmangu Museum which includes a large collection of the shrine's treasures' displays and exhibitions. Behind the main hall, visitors will find Kanko Historical Museum – a small museum displaying the main events in the life of Michizane in small dioramas.
Fukuoka Tower
This 234-meter tall tower located in the Momochihama area of Fukuoka, Japan. Fukuoka Tower was designed by Nikken Sekkei and finished in 1989, taking a total of 14 months to build at a cost of 6 billion yen. Covered by about 8000 half-mirrors and boasting a sharp appearance with its triangular structure, Fukuoka Tower provides a panoramic view of the whole city with the highest observation deck of 123 meters high. Up-to-date telescopes can also be found in the room. Visitors can shop some local specialties on the first floor such as Hakata's traditional confections or mentaiko (cod ovum) and enjoy a relaxing atmosphere at an eat-in cafe and a European style restaurant.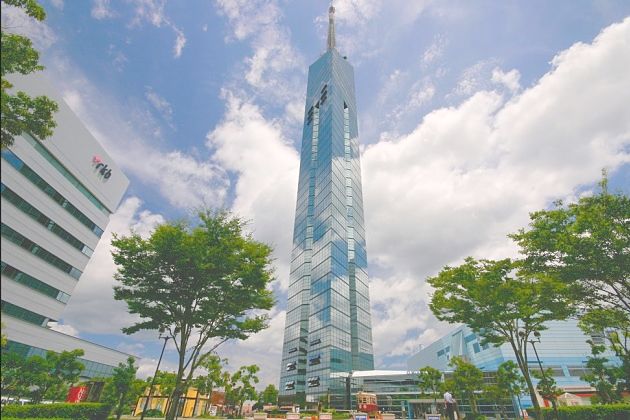 Hakata Gion Yamakasa
Your Fukuoka Shore Excursions will be more memorable with a unique experience in Hakata Gion Yamakasa. It is held annually during the first half of July with a trial race in the early morning hours of July 15. The participants include seven neighborhoods of Fukuoka's Hakata district competing in pushing attractively decorated festival floats along a five-kilometer long course through the city. There are two different types of floats: the larger kazariyama floats and the smaller sized kakiyama floats. 14 of the former stand spread out across the city from July 1 to 14 while the latter is dragged through the streets.
Yatai (Food Stalls)
Known as the city's best-known symbol, Yatai is beloved by almost all cruise passengers of Fukuoka Shore Excursions. These open-air food stands offer various types of food that are enjoyed in the atmospheric outdoor environment. The most popular places to find yatai is usually on the southern end of Nakasu Island. Lied in the list of typical dishes are grilled chicken skewers (yakitori), hot pot (oden) and most famously Hakata Ramen along with a variety of alcoholic drinks. Yatai is opened from around 6 pm to around 2 am. Many stands have one day off in the week. Waiting times are expected for popular stands, especially on Fridays and Saturdays.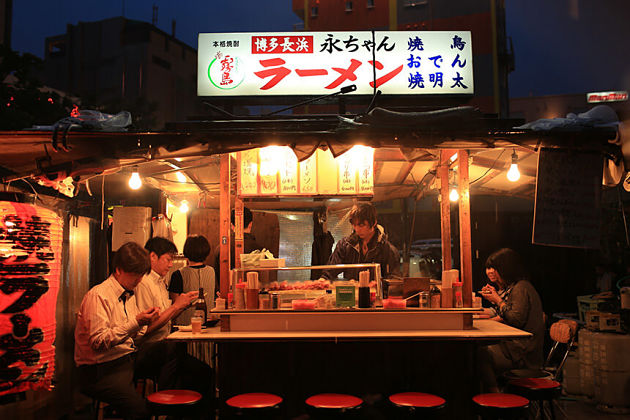 Shofukuji Temple
Shofukuji is the first Zen temple founded in 1195 by priest Eisai in Japan. Though visitors are not allowed to access the temple buildings' interior, you can take a stroll along Shofukuji's attractive temple grounds and admire the buildings from outside. The temple grounds of Shofukuji involve many significant features of a typical Zen temple. The wooden buildings have been destroyed and gone through many renovations back in time. Several gates can be seen on the temple grounds, the most prominent of which is the Sanmon Gate. In front of a small pond and bridge is the large gate that was most recently rebuilt in 1911. Walk along the tree-lined path behind the Sanmon Gate and visitors will be taken to the Butsuden Hall to admire the small wooden statue of the historical Buddha. The building's ceiling is eye-catching with an aesthetic painting of a cloud dragon. There are other interesting buildings related to Shofukuji Temple, such as a belfry and a hall dedicated to Eisai. In the surrounding neighborhood are few smaller temples featuring significant Buddhist architecture.