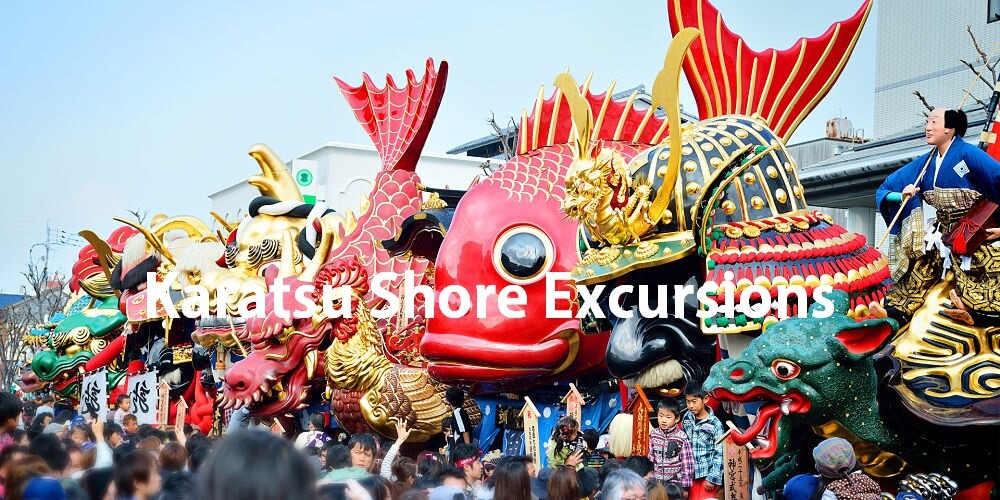 Top Karatsu Shore Excursions, Day Trips & Tours from Cruise Port
As the name tells all, Karasu means "the root port" as referring to its responsibility in the past. Thus, this city marks its historical important meaning as an old trading port connecting Japan with China and Korea. Because of its closest location to the Asian mainland, despite having a lack of featured attractions, Karatsu' culture is uniquely worth an exploration. Have to mention that local people speak the local dialect along with standard Japanese, Hakata dialect, and even Korean language. Besides, Karatsu is also the home of two fascinating festivals called Karatsu Kunchi (November 2-4) and Hamasaki Gion (Mid-July). Moreover, this city is famous for its historic pottery trade that there are many well-preserved ceramic artworks until now. With Karatsu shore excursions, cruise passengers can visit plenty of things to do and see.
Karatsu Castle

– the spectacular reconstructed castle with Fuji flowers (wisteria blossoms)

Karatsu-yaki Pottery Gallery

– displays ancient ceramic artworks and provide the real experience on painting pottery

Yobuko Morning Market

– long-lasting market selling dried seafood, vegetables, and other local goods

Niji no Matsubara Pine Grove

– one of top three most beautiful pine groves in Japan

Karatsu Hikiyama Exhibition Hall

– exhibits 14 large floats of Karatsu Kunchi Festival
Japan shore excursions' website delivers many itineraries for Karatsu shore excursions. If you don't find any suitable tours from Karatsu port, please fill the Contact Us form. Then, let us know what you need, and we will customize your own itinerary.