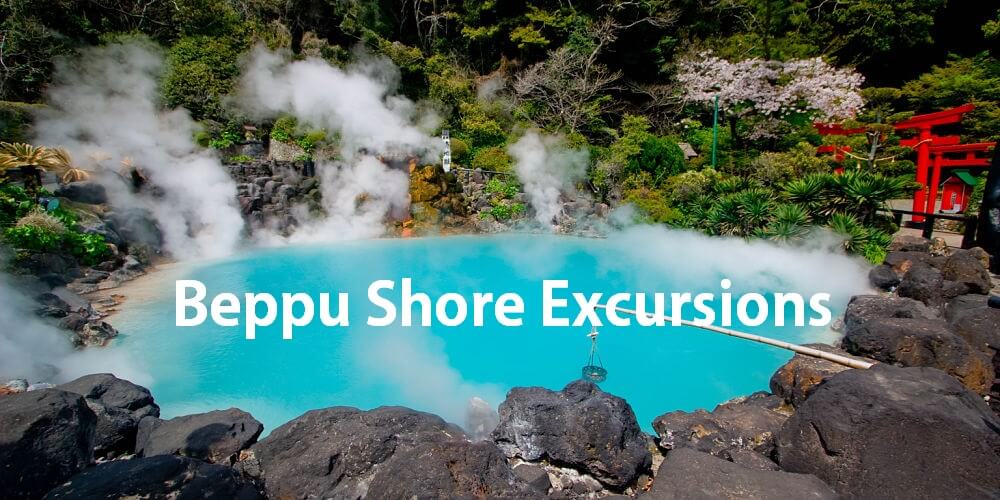 Top Choices for Beppu Shore Excursions, Day Trips & Tours from Cruise Port
Having the second largest underground hot springs in the world only after Yellowstone National Park in America, Beppu has considered as "The capital of onsen" with more than 2,900 hot waterfalls reach up to 99.5 Celsius degrees. Instead of serving as places for bathing, Beppu hot springs are mostly tourist attractions. Because its temperature is hotter than human endurance which causes smoke rising and water surface bubbly boiling all the time. Most of Beppu shore excursions include a visit to one of nine "hells" hot springs, especially some most famous below.
Umi Jigoku & Kamado Jigoku

with the unique color of milky blue

Oniishibozu Jigoku

with mud bubbles on the surface of boiling water

Oniyama Jigoku

– home to a variety of crocodiles

Chinoike Jigoku

– known as the blood pond hell thanks to its red water

Tatsumaki Jigoku

– the "spout hell" with boiling hot water erupts
Besides hot springs, Beppu also has other attractive places to visit. Takasaki Monkey Park is a small-scale monkey kingdom, while Umitamago (Marine Palace Aquarium) is the most popular aquarium in Japan. Moreover, reach Beppu Ropeway Station to admire the spectacular view over the city with the natural scenery changes through seasons. Pink porcelain cherry blossoms in spring, burning-red leaves in autumn, and perfect white snow in winter cover the whole area.
On our website, there are plenty of interesting choices for Beppu shore excursions. We offer the best services for both available and tailor-made Beppu tours from cruise port. Contact us to get the detailed information or customize your own shore excursions.