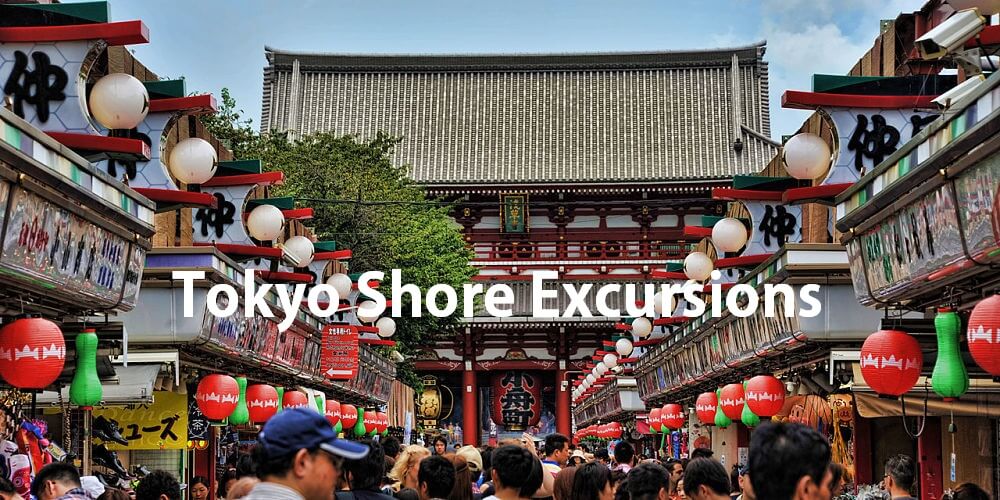 Best Tokyo Shore Excursions, Day Trips & Tours from Cruise Port
The capital of Japan is the wonderfully perfect fusion of traditional culture combining with modern life awaiting for every change. Widely known as one of the world' most developed metropolises, Tokyo is full of skyscrapers, shopping malls, and entertainment centers. However, hiding secretly among these modern landmarks are dozens of historical and cultural gems which present the breadth of Japan. Traditional values will never lose their position when centuries-old arts still perform and sumo fights still attract crowds. From Yokohama port, Tokyo shore excursions include various must-visit attractions that JapanShoreExcursions.com recommends below.
Sensoji Temple & Asakusa Nakamise Shopping Street

– the most bustling place in Tokyo with an ancient Japanese vibe

Tokyo Skytree

– the symbol represents for the city' economic development with observation decks overlooking the city

Imperial Palace

– the massive landmark serving as Royal Family' residence

Toyosu Fish Market

– the biggest seafood market in Tokyo
Besides, Tokyo shore excursions allow cruisers to visit Kamakura' attractions including the well-known bronze statue of Great Buddha. We would like to recommend several itineraries for Tokyo tours from cruise port. In case you can't find any suitable program, please contact us and discuss with our experts to create tailor-made tours.
---
10 Best Places to Visit in Tokyo
Japan has always been one of the top travel destinations in the world. Located in the East of Asia, Japan is considered the perfect combination of both classic and modern features. You can either go sight-seeing in glamorous cities with modern skyscrapers and amazing train rides. Or choose to experience rural areas with ancient temples and local costumes. Besides, going on a Japan Shore Excursion to discover the breathtaking landscape and bustling fish market is another interesting option. Whatever your desire is, Japan is here to offer. Too much to handle? We are here to get you back on the right track. Let's take a look at some most popular Japan tourist spots. Tokyo is the capital city of Japan and the most populous metropolis in the world. Located at the head of Tokyo Bay on the Pacific coast of central Honshu, it consists of 23 central city wards and multiple cities, towns and villages. Being one of Japan's 47 prefectures, Tokyo today is the most important center of industry, finance and culture. Before 1868, Tokyo, known as Edo, was a small castle town in the 16th century. Later in 1603, Tokugawa Ieyasu established his government there making Edo become Japan's political center. After the restoration of Meiji in 1868, the emperor and capital moved from Kyoto to Edo, which was renamed Tokyo.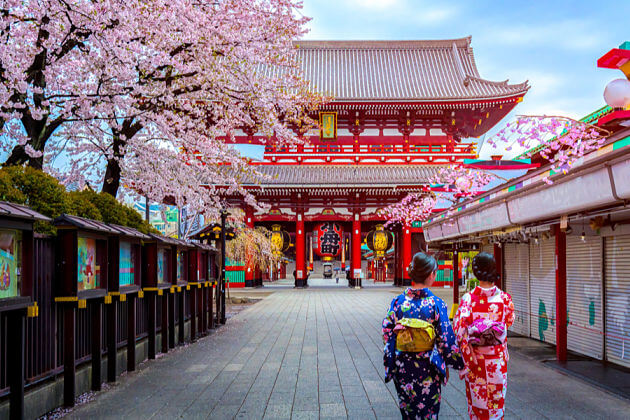 Nowadays, Tokyo lies in almost everyone's must-travel list because it offers an unlimited choice of shopping, entertainment, culture and dining to its visitors. Whether you love historical sites with antique temples and museum or spectacular landmarks with futuristic architecture, Tokyo can satisfy all your desire. Even its outskirt offers attractive green spaces where you can try on Tokyo Shore Excursions to explore further. Not surprisingly when Tokyo is listed in "Most Worth-Living Cities in the World" for all these fascinating features. Now, why don't you join us to find out popular places to visit in Tokyo?
Tokyo Skytree
Prepare to be overwhelmed by the world's highest free-standing broadcasting tower. Located in the Sumida City Ward, not far away from Asakusa, Tokyo Skytree is the symbol of tradition and future with an incredible height of 634 meters. Tokyo Skytree plays an important role in providing stable transmission for terrestrial broadcasting and is assumed to have the disaster-prevention function at times of natural disaster. Visitors might feel a bit dizzy when coming up to two observation decks which offer a breathtaking view of the whole Kanto Region but believe me it totally worths the effort. It is also an ideal place to enjoy Tokyo Night View with a luxurious restaurant and live music. Besides, there are other interesting services such as shops, aquarium, and cafe where you can spend some quality time with your family and friends.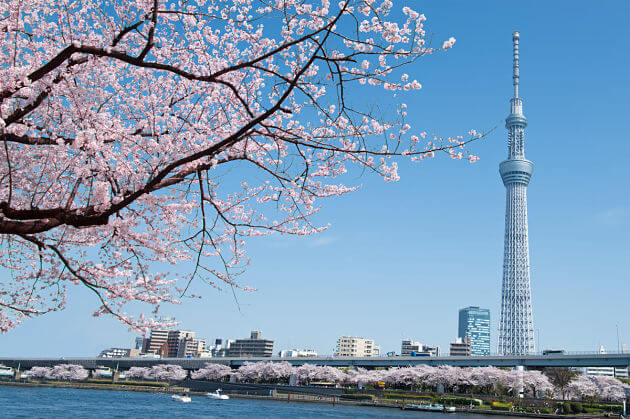 Shibuya Pedestrian Crossing
There is no need to talk much about this most iconic sight of Tokyo. An unbelievable number of 2.8 million people pouring across the streets from different directions has made Shibuya one of the most bustling intersection in the world! Looking from the glass window of some surrounding café shop, visitors will have a chance to enjoy the stunning view of passengers crossing when the traffic lights turn green. Despite the madness, hundreds of people just come to take street style photos after going shopping at some of the most well-known clothing brands nearby. Shibuya is known as Tokyo's most trendy district and it's home to Japanese young culture embraced in a number of shopping malls, fashion boutiques, clothes shops, bars, clubs, restaurants. It takes only a few minutes from the train station to get to Shibuya 109 shopping mall - the legendary shopping haunt where the latest fashion trends begin. Come here on New Year's Eve or Halloween Day, especially for party lovers, you will definitely have the most memorable experience in your life.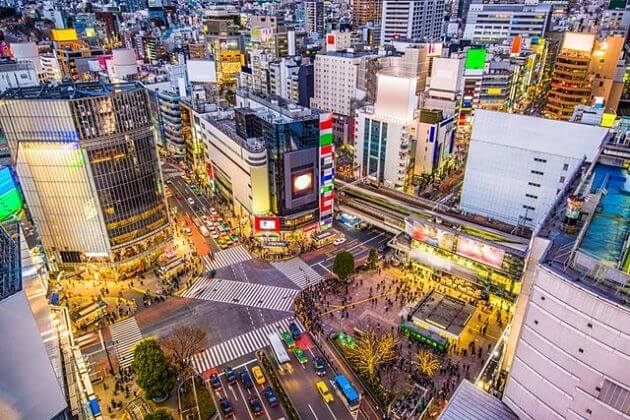 Sensoji Temple
Japan is famous for thousands of ancient temples, but the oldest of them all is the Sensoji Temple in Tokyo. Once it was rebuilt after the destruction of the Second World War, its original beginning dated back to the year 645, making it over 1,400 years old. From the entrance to the temple, the enormous Thunder Gate with hanging lamps leads visitors to experience Nakamise-dori where you can buy souvenirs, try some food and snacks. Passing the Hozomon Gate, visitors can see Asakusa Kannon Temple, one of the most iconic Buddhist Temple in Japan. It is the home to the statue of Kannon, which was found 1400 years ago and buried deep in the ground inside the temple by the fishermen and no one has actually seen it since. Sensoji Temple is also where various events are held throughout the year.
Odaiba District
Accessed via the Rainbow Bridge or Yurikamome Line, Odaiba is a district located on a man-made island on Tokyo Bay, southern Tokyo. Odaiba gathers a lot of interesting entertaining sites including shopping malls, restaurants, museums and entertainment facilities. If you are a fan of artificial intelligence, the National Museum of Emerging Science and Innovation (Miraikan), digital arts at MORI Building DIGITAL ART MUSEUM and the latest VR at Tokyo JOYPOLIS are three destinations must be noted down on your to-do list. In this pleasurable island, visitors might feel like they have been lost to New York when a Statute of Liberty is standing right in front of their eyes. But it is actually just a small-sized replica. If you go on Tokyo Shore Excursions, Odaiba is definitely the first place you should visit to enjoy the stunning night view of Tokyo Bay on cruising.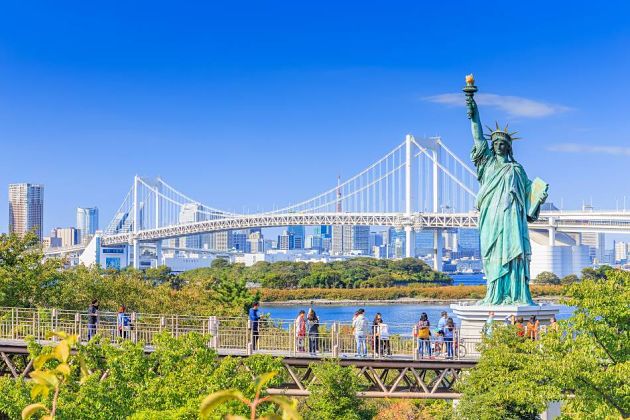 Edo-Tokyo Museum
The Edo-Tokyo Museum is the most ideal choice to take a look at Tokyo's past expressed vividly through models, re-creations and a variety of artifacts. Some sections allow you to even get inside. With only a ticket to this impressive museum, visitors are able to experience and learn about diverse aspects of Earlier Tokyo, from the regular lifestyle, culture heritage to Edo Period architecture and political climate.
Tsukiji Fish Market
Tsukiji Fish Market has been a top tourist Japan attraction for many years. It once was the world biggest wholesale market but in 2018 autumn, the wholesale market of Tsukiji has been relocated to the brand-new Toyosu Market. Although the Tsukiji Fish Market has moved away, the outer market of Tsukiji remains to be the best location to enjoy a taste of Japan with hundreds of restaurants and shops gather including Sushi restaurants, groceries, kitchen utensils stores and Japanese knife shops with the lively and authentic market atmosphere.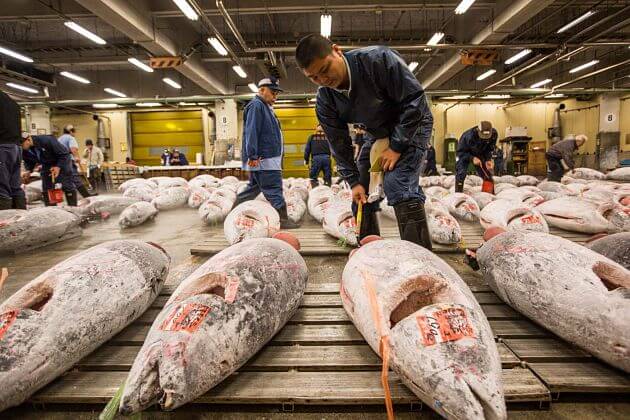 Ueno Park
Ueno Park is an enormous public park located in the Ueno district of Taitō, Tokyo, Japan. It is famous for many well-known museums found on its grounds such as Tokyo National Museum, the National Museum for Western Art and Japan's first zoological garden – Ueno Zoo. Searching about it on the Internet, visitors are totally impressed by hundreds of cherry blossom pictures. Yes, this is one of Tokyo's most popular cherry blossom spots with more than 1000 cherry trees lining its central pathway. The best time to see cherry blossom is usually during late March and early April.
Akihabara District
Akihabara is considered as the most unique electronic district in the entire world and home to Otaku culture. It's the best place to shop high-tech gadgets and experience the underground culture of Japan. Akihabara offers you a chance to approach the latest technological devices in Yodobashi Camera, VR Ninja Dojo, Radio Center or Janpara. Visitors might feel like they have stumbled in Otaku World when visiting Mandarake (the largest manga and anime store in the world) and been drowned in various items related to manga, anime, game, dolls, etc and loads of rare items that can only be found here.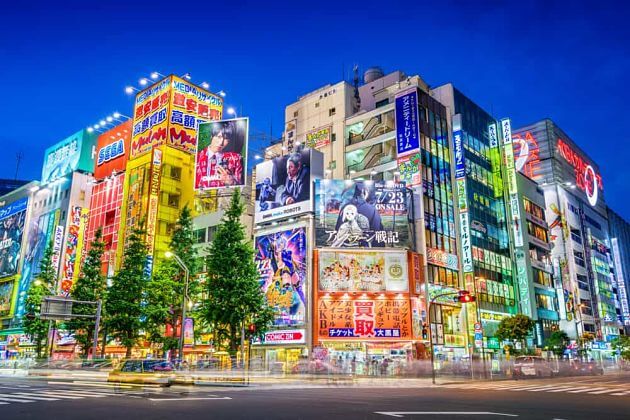 Ghibli Museum
Ghibli movies have been the obsession of many people around the world, especially children. Now, visitors can have a chance to really experience the Ghibli World and be surrounded by your favorite characters. Located on the edge of Tokyo's Inokashira Park, the Ghibli Museum is a multi-storied mansion that has successfully recreate the charming features and amazing artistry of Studio Ghibli universe. The Ghibli Museum founded by Miyazaki as the dedication to the studio's work with the aim to illustrate a fantastic and amazing animation world. The structure is sophisticated with tiny doors, winding stairs... The exhibit areas are full of interactive features, life-size models of popular film settings, such as the interior of the amazing flying ships of "Laputa". In addition, a miniature theatre can be found at the back on the ground floor. It is where an exclusive animated movie showed several times each hour.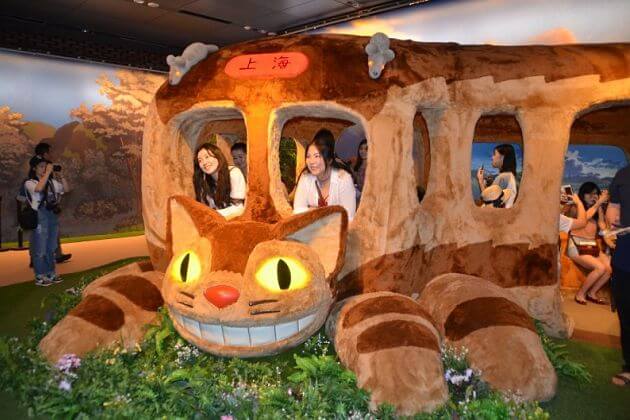 Tokyo Disneyland
Tokyo Disneyland is 9th park of the 11 worldwide Disney theme park to be opened. Especially, here includes the 4th most-visited theme park in the world –Tokyo Disney Sea. Tokyo Disney Sea is made up of seven themed ports of call: Mediterranean Harbor, Mystery Island, Mermaid Lagoon, Arabian Coast, Lost River Delta, Port Discovery and American Waterfront, which inspired by myths and legends of the sea. With a variety of entertainment facilities, Tokyo Disneyland welcomes millions of visitors every year and is totally an unmissed spot when visiting Japan.