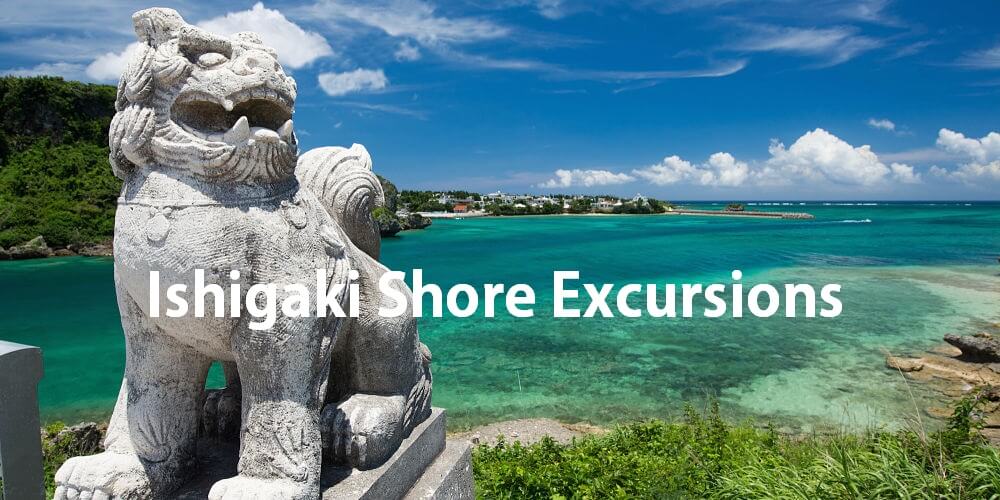 Ishigaki Shore Excursions, Day Trips & Tours from Ishigaki Port Provided by Travel Experts
Despite locating near Taiwan than the mainland of Japan, Ishigaki still has the traditional Japanese culture without any mixture. Because of its perfect climate, the island is a seaside paradise where cobalt blue sea contrasting to the beautiful white sand. In addition, the breath of the sea combines with local singing, creates a light nostalgia rhythm. Besides the scenery is even compared with Hawaii and Fiji, Ishigaki is more than this with a rich culture. In fact, this island has a unique culinary that every ingredient is fresh, especially seafood just caught from the ocean. Try some interesting experiences, visit the island's highlights, and learn about its unique culture by taking Ishigaki shore excursions.
Torinji Temple & Tomb

– one of the oldest wooden buildings in Okinawa Prefecture

Ishigaki Yaima Village

– dress like a real Ishigaki local and learn about its culture

Yonekoyaki Pottery Studio

– famous for being home to colorful shisa statues

Kariba Bay

– the most beautiful coastline in the island

Ishigaki Long-tail Monkeys

– play with mischievous little friends
There are plenty of attractions to see and activities to do in Ishigaki tours from cruise port offered by Japan Shore Excursions. Let take an overlook and pick your interesting itinerary, or freely contact us to design a tailor-made tour in Ishigaki that meets your needs.
---
Top Things To Do in Ishigaki
Ishigaki Island, located near the main Okinawa Island, attracts visitors mostly for its appealing natural sceneries of brilliant clear waters, amazing marine life, and lip-smacking cuisine. Hop on Ishigaki Shore Excursions to have a closer look at Ishigaki's famous historical sites, spectacular natural landscapes as well as other fascinating tourist destinations.
Explore Natural Beauty in Ishigaki
Ishigaki Island Stalactite Cave
The cave's current shape is said to have taken thousands and thousands of years to create as 200,000 years ago the island was still deep underwater. The length of the actual cave is 3.2 kilometers. It was formed originally from the rising of deep-sea coral reefs and is very impressive to see up close. It is famous for the fast growth of the stalactites, which is about one millimeter in three years in this cave, while the usual growth speed is one millimeter in 10 to 30 years.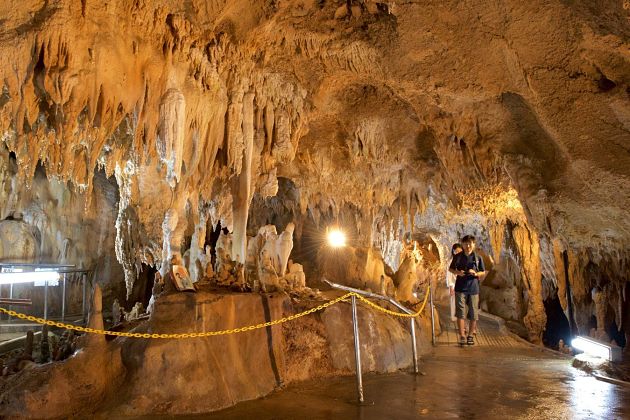 There are some illuminated spots available inside the cave, altogether creates a mystic atmosphere that can hardly be seen anywhere else. There is the Lake of Longevity whose surface illuminated in green. Near there, visitors can find the Ochitetamaruka where stalactites remained suspended on top of the limestone below so it is usually known as "never-falling rock." In Japanese, ochiru not only means "falling" but also indicates the failure in entrance examinations. That explains why "never-falling rock" has become a symbol of good luck to the students preparing for exams, and many of them visit this cave to pray for success. Another famous photography area is the Totoro Stalactite which appears like the standing ears reminding us of some animation characters.
Kabira Bay
As one of the most beautiful sightseeing spots in Ishigaki Shore Excursions, Kabira Bay enchants visitors with its numerous coral reefs and tropical fish of various colors. It is also said to be the place where the world's first black pearl was cultivated since ancient times. Due to intense currents, visitors will not have a chance to swim in Kabira Bay but you can use a glass-bottom boat to see underwater. The glass bottom helps to provide a clear view of turquoise water as well as the beautiful fish and coral. The superb scenery of Kabira Bay has been selected as one of Japan's Top 100 Landscapes.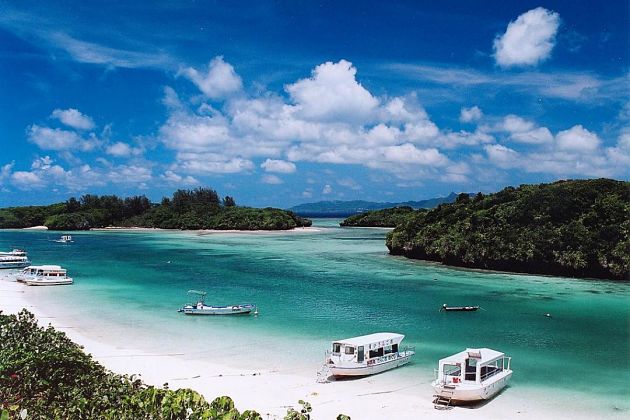 Tamatori-saki Observation Deck
It takes about 40 minutes to drive from downtown Ishigaki City to get to Tamatori-saki Observation Deck. Located at the top of a hill with a red-tiled roof, Tamatori-saki Observation Deck offers a wide view over Hirakubo Peninsula. The view will also be packed with deep red Hibiscus flowers, an ocean with coral reefs and a strong breeze. All of Ishigaki's fascinating features are gathered into one. Visitors will see the narrow stretch of land called "funakuya," . It is said to be where fishermen came across while carrying their boats. At night, visitors will also be able to emerge in the mysterious night sike filled with splashy stars.
See Famous Historical Sites in Ishigaki
Torinji Temple & Gongendo Shrine
Your Ishigaki Shore Excursions cannot exclude some long-standing historical sites representing the area. Both are known as Rinzai Sect temples located in the southern part of Ishigaki Island in Okinawa Prefecture. Torinji Temple has been recognized as a cultural asset of Okinawa while Gongendo Shrine has been designated as an important cultural property of Japan.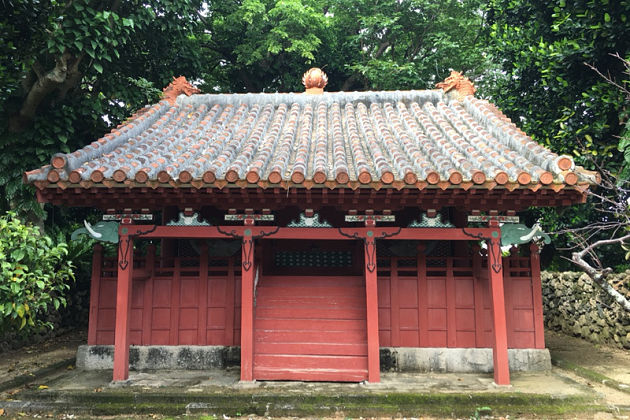 Ever since its establishment in 1614, Torinji Temple remains the oldest wooden building in Okinawa. Tourinji is a famous Buddhist temple included in the Myoshinji sect of Rinzaishu. The statues in this temple are precious as the last remaining ones on all of the Okinawa Islands. They were made by combining pieces of Michelia compressa. The Gongen-do worship hall features some elements of Shuri Castle's roof molding style. The temple's Sanmon gate is prominent for containing two carvings of the great Deva Kings that are known as Okinawa's oldest wooden carvings. On the poles of the entrance, visitors often notice two elephant figures that are not native animals anywhere in Japan.
Yaeyama Museum
Established in 1972, Yaeyama Museum consists of materials and exhibitions displaying the history and culture of Yaeyama Islands (islands of Ishigaki, Taketomi, Yonaguni, etc. on the southwestern tip of Japan). Visitors can see folk craft instruments, painting and writing, pottery, dyed garments and other precious objects presented inside the museum as well as read the museum's self-published magazine. Those are all included in a permanent exhibition that renewed several times a year and there are also seasonal exhibitions conducted.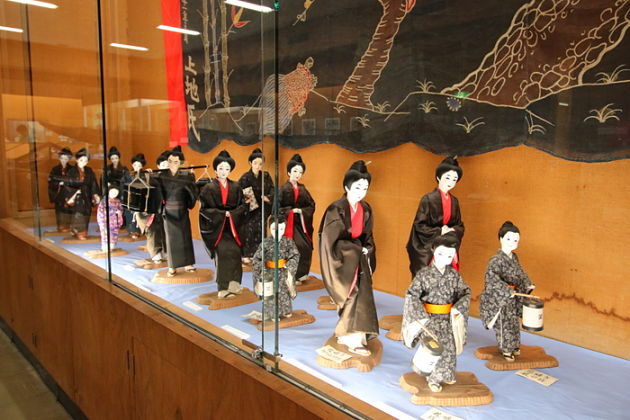 Visit Popular Tourist Attractions in Ishigaki
Ishigaki Yaima Village
Featuring in Ishigaki Shore Excursions is Ishigaki Yaima Village - a collection of relocated Yaeyama Island-style residences from across the archipelago. It is also where various activities take places such as a traditional song and dance performance. They are held three times daily in one of the houses and reminiscent of the traditional form of entertainment. Visitors can also walk around a small mangrove area, play with mischievous squirrel monkeys as well as enjoy meals in a restaurant and shop some local specialties in a souvenir shop. Also, visitors can tour a traditional hut with a red-tile roof, registered as Tangible Cultural Property, try hands-on experience making Sata Andagi (a traditional Okinawan sweet), and try on national Ryukyu clothes.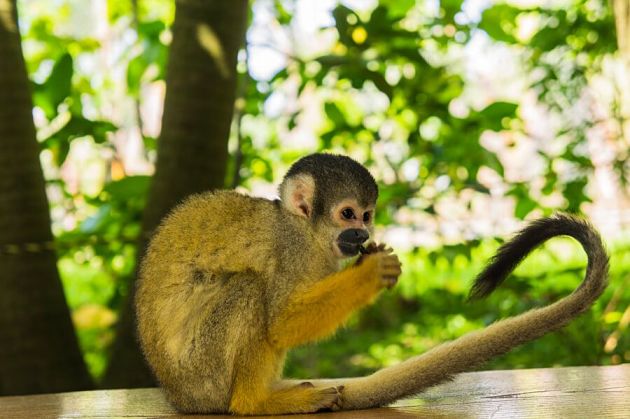 Yonekoyaki Pottery Studio
Another well-known area is Yonekoyaki Pottery Studio. Yoneko-yaki Pottery produces the cutest colorful shisa statues in Okinawa. The workshop can be found just across the road from Yonehara Beach on the northern coastline of Ishigaki. This is a perfect place to learn how the artisans create their psychedelic Shisa figurines. Though these odd monsters are characterized by bulging eyes and wide-open mouths, they are known to bring safety to the houses as well as the home residents. Step out for a walk through the garden of uniquely Shisa statues of varying sizes arranged in a picturesque manner around some ponds and hills where jackfruit orchards surround you.