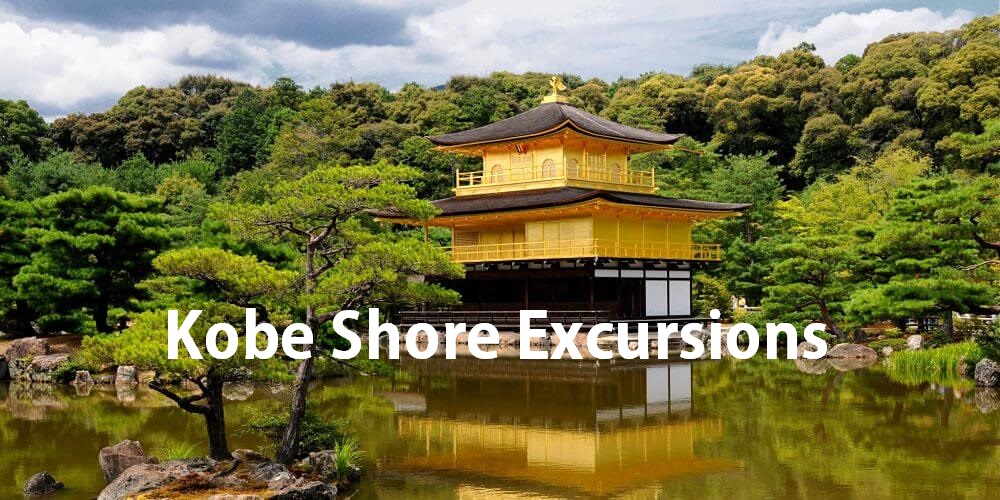 Best Kobe Shore Excursions, Day Trips & Tours from Kobe Cruise Port
Kobe marks the name as "mini Europe" of the East with four seasons of beautiful natural scenery. Besides, this place is a harmony place, a mixture of the blue sea and splendid mountain. Not only being famous for being home the world's most expensive beef but the city also has highlighted attractions. Due to having a gateway port, from Kobe shore excursions, cruisers can also visit other well-preserved traditional cultural cities. Particularly, the highlighted cities are Kyoto, Osaka, Himeji, and Nara. Hop on Kobe shore excursions, cruisers can visit many interesting attractions not only in Kobe but also areas nearby.
Arashiyama Bamboo Grove

– stroll in the middle of thousands of bamboos

Kiyomizu-Dera Temple

– attracts visitors by its scarlet appearance

Kinkakuji Temple

– the pavilion covered with golden-leaf

Himeji Castle

– famous for its elegant white appearance

Dotonbori shopping area

– the most bustling place in Osaka
We provide the best tours from Kobe port for cruise passengers from around the world with many unique experiences. Leave a comment on your favorite tours on the website of Japan Shore Excursions or fill in Contact Us Form to design your own itinerary.
---
Lied between the Rokko mountain range and the Inland Sea of Seto, the city is part of the Keihanshin metropolitan area along with Osaka and Kyoto. Kobe is unique for creating an international community where gathers various culture. But Kobe nowadays can still keep its extraordinary origin and tradition embraced in some of the most famous attractions to visit in Japan. In addition, Kobe has always been a one of a kind tourist attraction because from Kobe, visitors are given the opportunity to hop on Kobe Shore Excursions and travel to nearby popular tourist attractions in Japan such as Kyoto, Osaka, Nara, and Himeji City easily.
What to Do in Kobe
Sample Kobe Beef
It is not exaggerated to say that Kobe Beef is what makes the city of Kobe one of the best places to visit in Japan. Kobe Beef can literally be found on the dinner tables of many renowned restaurants in the entire world. But where else can visitors taste Kobe Beef better than its original? Kobe Beef is a lump of tender, flavorful meat which is well marbled with fat. It is produced from pedigreed Tajima breed cattle that were born and bred in Hyogo Prefecture.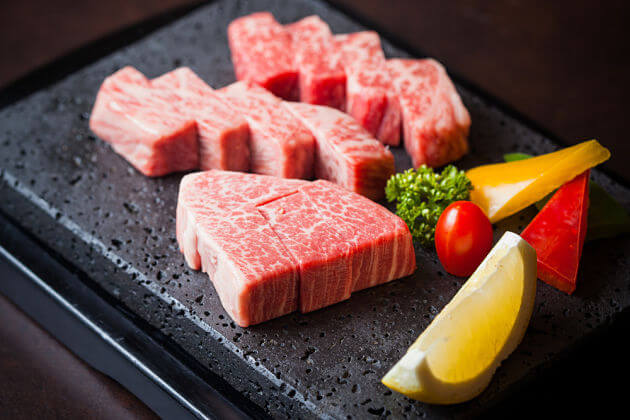 It is often said that the cows are usually fed beer or massaged with sake. But in fact, that is an only rumor. What makes the Kobe Beef so distinctive that it is carefully chosen to earn a strictly-guarded trademark. Dishes of Kobe Beef usually are steaks, shabu shabu (thin slices of meat quickly boiled in a broth) or sukiyaki (meat slices simmered in a hot pot). To have a taste of this extraordinary meat, the best way is to eat at a teppanyaki restaurant, where the meat is grilled on an iron plate in front of the guests. Prices can vary, but one thing for sure is it often charges from 8,000 to 30,000 yen per person.
Hot spring bath in Arima Onsen
Arima Onsen is another famous tourist spot in Kobe. Located on the opposite side of Mount Rokko from the city center, it is a hot spring town representing for the traditional Japan features. The town with narrow lanes and wooden buildings is chosen by visitors for a weekend trip where they can enjoy a hot spring bath containing more salt, iron and rare ingredients than the seawater. With a budget from 200 to 2000 yen, visitors bathing in the hot spring water can have special treatment for refreshing and improving poor circulation, backaches, and skin disorders.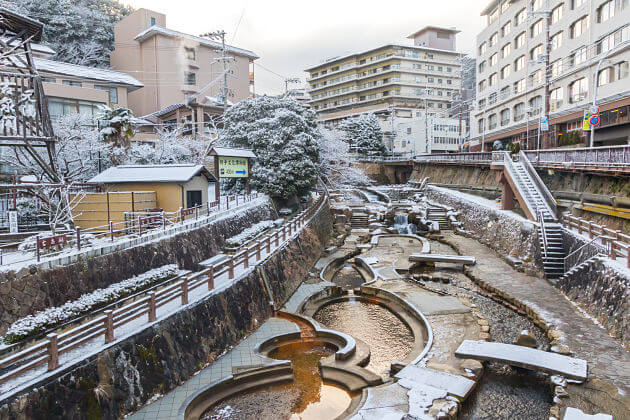 Great Hanshin-Awaji Earthquake Memorial Park
The city of Kobe was hit by the Great Hanshin Awaji, Earthquake on January 17, 1995. This horrible event caused the death of more than 5000 people and the damage to thousands of homes. For that reason, in 2002, the Earthquake Memorial Museum was established as a part of the Disaster Reduction and Human Renovation Institution to pay a tribute to lost ones and to remind people of disaster prevention. The museum illustrates realistic images of the earthquake's destructiveness, a documentary film about the recovery process and information about the earthquake in a large screen theatre. Hands-on and interactive games about disaster prevention are also included.
Stroll along Nankinmachi (Kobe Chinatown)
Nankinmachi gives visitors the opportunity to experience Chinese culture right in central Kobe. It was developed by Chinese merchants who settled near Kobe Port after the port was opened to foreign trade in 1868. As the Chinatown developed, it is named after the former Chinese capital – Nanjing. Nankinmachi is known as a popular tourist attraction packed with a variety of shops, restaurants and food stands. Visitors can experience the real Chinese culture when surrounded by significant items such as steamed buns, ramen, tapioca drinks, etc.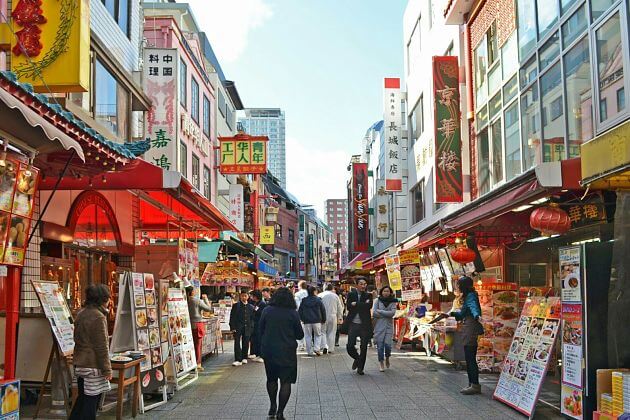 Experience Kobe shore excursions
Stop at Kobe port, your journey cannot be completed if you do not spend some time to reach other must-visit places in Japan. Can be easily reached from Kobe, Osaka, Kyoto, Nara and Himeji City all offer charming features that can make your experience unforgettable. Let's grab the chance to explore further!
What To See in Kobe Shore Excursions
Osaka Castle
Once was the largest castle at the time it originally constructed, the Osaka Castle was destroyed and rebuilt several times until 1997. With an impressive area of two square kilometers, the Osaka Castle consists of an Osakajo Hall, a shrine dedicated to Toyotomi Hideyoshi, and sports facilities. Considered the spirit of Osaka, the castle is exclusive for its sophisticated design with citadels, impressive gates, steady stone walls, and moats surrounding. This is also where visitors can view cherry blossom trees in spring. The best time usually takes place in early April.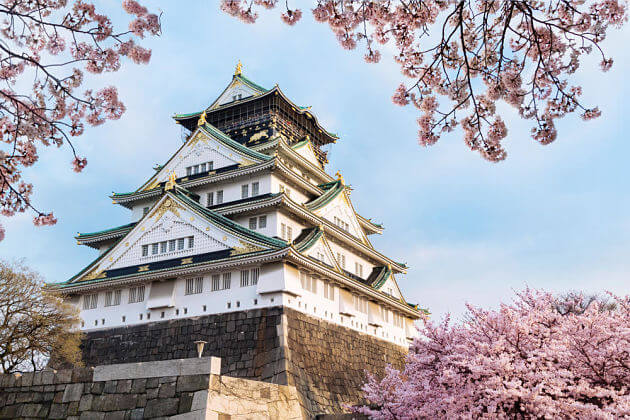 Iwashimizu Hachimangu Shrine & Sake Brewery
Iwashimizu Hachimangu was established in an honor of Hachiman, the God of War. Until 1868, it was a shrine-temple complex dedicated to both Buddhist and Shinto practices. Its architecture includes buildings sharing a single interior. It is rare to have a chance to enter the inner sanctum of a shrine, but at Iwashimizu Hachimangu, you are able to join a tour to have a deeper understanding of the temple's history. Heading to Gekkeikan Okura Sake Museum, visitors can experience sake brewery. Sake made in this museum brings up another taste of aroma and fruity sweet thanks to the high-quality water of Fushimi district. A glass of chilled sake can refresh your mind and body in summer and keep you warm in winter.
Nonomiya Jinja
Nonomiya Jinja is a small shrine situated near the well-known temple Tenryū-ji, along the Sagano walking path that leads visitors to the bamboo forest and up into the foothills of Arashiyama. It served as a sacred house belonged to imperial princesses selected as priestesses for Ise Shrine. Alongside the garden are two sub-shrines marked with lanterns and vermilion torii gates The scenery that Nonomiya Shrine offers is like nowhere else with black torii gate, which appears in the classic 11th-century novel The Tale of Genji.
Nara Park
Nara Park is a large park located in central Nara. Established in 1880, it is the location of many of Nara's main attractions including Todaiji, Kasuga Taisha, Kofukuji and the Nara National Museum. Enjoying a walk in Nara Park, visitors are likely to see freely roaming deers. The park is home to nearly 1200 deers, that is the reason why it is cherished as a natural treasure. Some deers can be quite aggressive but some are taught to learn how to bow and ask visitors to be fed.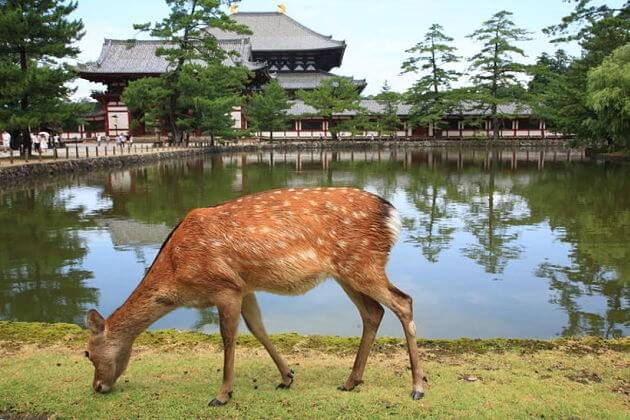 Himeji Castle
Himeji Castle or White Heron Castle (Shirasagijo) is known as Japan's most spectacular castle for its elegant white appearance. The castle is highly appreciated as a national treasure and a UNESCO World Heritage Site. It comprises of over eighty buildings and ninety-three rooms spread across multiple baileys connected by lots of gates and winding paths. Although it had gone under restoration work for years but still maintained its brilliant white exterior and was reopened in 2015. Himeji Castle is also a popular cherry blossom spot, especially in early April. But depending on the limited tickets, only a number of visitors are allowed to enter the main keep.