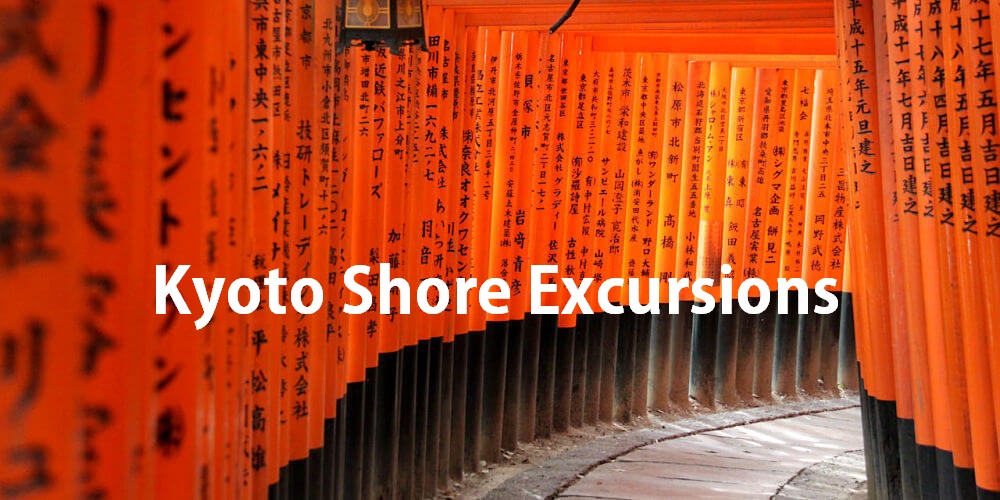 Best Kyoto Shore Excursions, Day Trips & Tours from Kobe Cruise Port
Due to serving as the former capital of Japan, Kyoto is a large-scale open-air museum exhibiting ancient Japan. Especially, this cultural city is Japan' spiritual heart full of thousands of sacred temples and holy shrines. Moreover, expect to be overwhelmed with surreal experiences in Kyoto with green landscape gardens, traditional wooden teahouses, and strolling geishas. Besides, Kyoto shore excursions from Kobe port including many highlights in the city and areas nearby.
Fushimi Inari Taisha

– the holy religious place with thousands of torii gates lining up

Kinkakuji – the Golden Pavilion

sparkling covered by gold leaf

Gion District

– dress up kimonos or yukata to explore this ancient town lined up by traditional wooden houses

Kiyomizu-dera

– well-known for its location overlooking the basin of Kyoto with a tranquil refuge

Ginkakuji – the Silver Pavilion

famous for its elegant appearance and sumptuous garden
Below on Japan Shore Excursions' website are plenty of Kyoto shore excursions from Kobe port. If you want to customize a new tour in Kyoto, fill the contact us form and share your traveling plan.
---
Top 10 Things To See & Do in Kyoto
Known as the kingdom of countless ancient temples, colorful shrines, and sublime gardens, Kyoto is a dynamic and contemporary city with so much more to offer. Tourists are drawn year-round by the attractive historical sites, majestic palaces, impressive statues and villas along with a variety of interesting traditions and customs. Explore further with Kyoto Shore Excursions that include almost all must-visit places in this dazzling city as well as various experiences such as participate in tea ceremonies, try on flower arranging and meet Japanese ancient entertainer – Geisha.
Fushimi Inari Taisha Shrine
Once hopping on Kyoto tours from Kobe port, you will not miss one of the most famous locations in Japan - Fushimi Inari Taisha Shrine - a prominent Shinto shrine in southern Kyoto. It attracts a considerable number of tourists by its thousands of vermilion torii gates. Behind its main building is a network of trails that lead into the wooded forest of the sacred Mount Inari.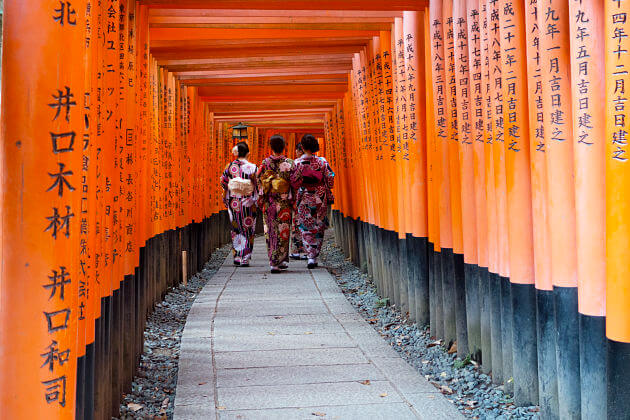 Fushimi Inari was constructed as a dedication to Inari - the Shinto god of rice. As foxes are believed to be Inari's messengers, a lot of fox statues can be found across the shrine grounds. The shrine's structure is also very attractive. At the entrance stands the Romon Gate, which was donated in 1589 by the famous leader Toyotomi Hideyoshi. Behind that is the shrine's main hall (honden) where visitors come and pay respect to the resident deity by making a small offering.
Gion District
Situated around Shijo Avenue, Gion is the most famous geisha district in Kyoto. The district is lined with shops, restaurants and ochaya teahouses, where geiko (Kyoto dialect for geisha) and maiko (geiko apprentices) entertain. Gion is also full of traditional wooden machiya merchant houses. The most exclusive area of Gion is nowhere else but Hanami-koji Street from Shijo Avenue to Kenninji Temple. Known as a pleasant place to dine, along its streets and its side alleys, lines of preserved machiya houses and restaurants serving Japanese haute cuisine as well as other types of local specialty can be found. Another panorama view can be found in Gion is the Shirakawa Canal that lined by willow trees, luxurious restaurants and tea houses where visitors can have a relaxing time with a view overlooking the canal. Especially, there is a cultural show held every day at Gion Corner at the end of Hanami-koji. With the view to introducing traditional Japanese arts to foreign tourists, the show includes short performances of a tea ceremony, ikebana, bunraku, Kyogen comic plays and dances performed by real maiko.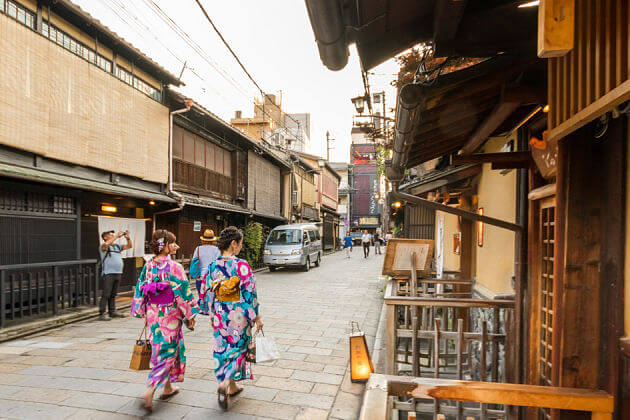 Arashiyama Bamboo Grove
Cannot be ignored in Kyoto tours from Kobe port is Arashiyama Bamboo Grove - one of the most photographed and recognizable sights in Kyoto. Located in the village of Sagano on the west side of the city, the grove can be approached from the side gate of Tenryu-ji Temple. At the top of the grove, tourists are likely to find Okochi-Sanso Villa – a fine villa with magnificent gardens, a fresh atmosphere and offering some of the best sights of Kyoto. A Japanese sweet and hot matcha tea in the villa's teahouse is included in the admission fee for Okochi-Sanso. Walking towards Randen Saga Station, visitors will find an array of shops that sell goods exquisitely made from the bamboo you've just seen.
Togetsukyo Bridge
Known as one of the most scenic landmarks of Arashiyama, the long-standing Togetsukyo Bridge was constructed over Kyoto's former commerce center along the Oi River. Its name can be translated into "Moon-Crossing Bridge" that was inspired by the Emperor Kameyama. Appears magnificently on the backdrop of fall foliage and full-blown cherry blossoms in the spring, this spectacular structure lengthens 155 meters as if the wooden path would stretch directly to the moon.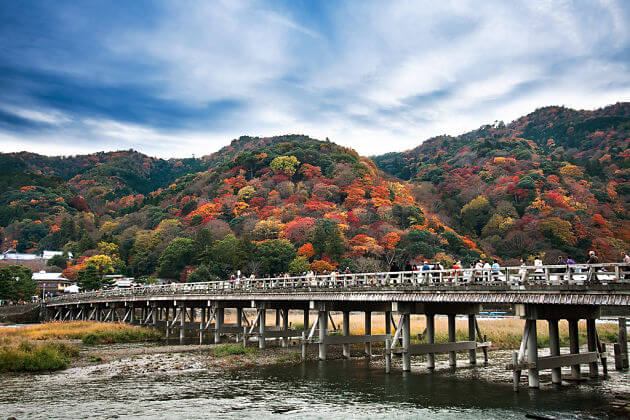 Visitors can take a relaxing stroll across the bridge that will lead you to a small pier full of rental boats. One of the most significant experiences in Kyoto Shore Excursions from Kobe port is taking an enchanting cruise down the river with the iconic bridge in view.
Kinkakuji Temple (Golden Pavilion)
Located in northern Kyoto, Kinkakuji Temple is a famous Zen temple with the top two floors covered in gold leaf. Once was the villa of the shogun Ashikaga Yoshimitsu, it became a Zen temple of the Rinzai sect after his death in 1408. Built overlooking a large pond, Kinkakuji overwhelms everyone with its impressive structure. The present structure was reconstructed in 1955 after many times suffering from fire. Its establishment was to spread the Kitayama culture that developed in the wealthy aristocratic circles of Kyoto during Yoshimitsu's times. Each floor is distinct with its own architecture style. Crossing through the garden, visitors will be taken to the Sekkatei Teahouse which was added to Kinkakuji during the Edo Period. Souvenir shops, a small tea garden where you can sip matcha tea and sweets, and Fudo Hall can be found.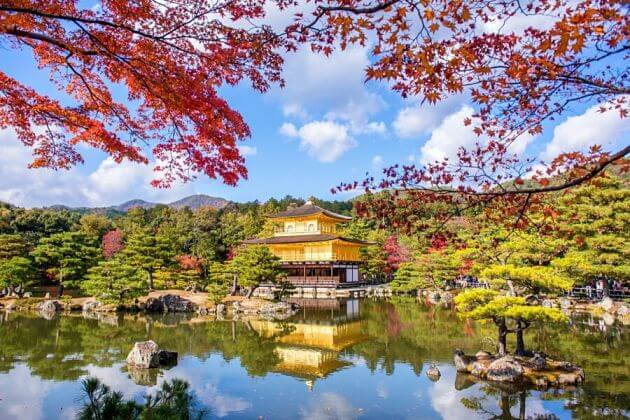 Nishiki Market
Kyoto Shore Excursions from Kobe port will send visitors to the hustle and bustle atmosphere of Nishiki Market. Formally known as "Kyoto's Kitchen", Nishiki Market is a narrow, five-block long shopping street with lines of shops and restaurants. These shops vary from small size stalls to larger two-story shops. This lively market retails fresh seafood and products like knives and cookware as well as seasonal foods and Kyoto specialties including sushi, Japanese sweets, dried seafood, and pickles. Most of them are locally produced and procured. It is regarded as a perfect place for anyone who would like to explore the variety of Kyoto's culinary delights.
Nijo Castle
Built-in 1603 as the Kyoto residence of Tokugawa Ieyasu, Nijo Castle was then completed 23 years later with an added five-story castle keep. In 1867, Nijo Castle was once served as an imperial palace but then donated to the city and used as a public historic site. Its palace buildings are said to be the best surviving examples of castle palace architecture of Japan's feudal era. In 1994, the castle was recognized as a UNESCO world heritage site. There are three main areas in the castle: the Honmaru, the Ninomaru and some gardens that encircle the Honmaru and Ninomaru. There are stone walls and moats surround the entire castle grounds and the Honmaru.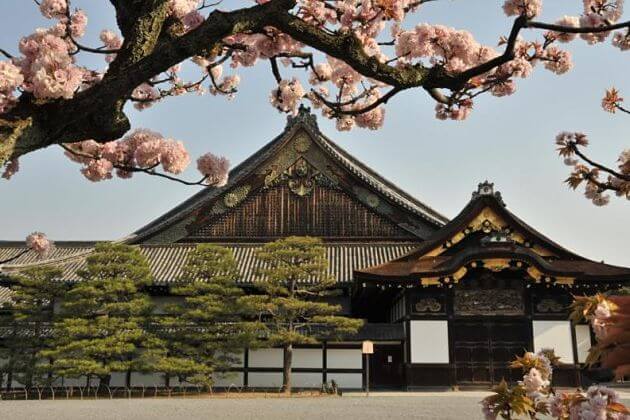 Uji & Tea Plantation
Known as the birthplace of Japanese tea, Uji is the second-biggest tea plantation in Japan. The city is full of lush and green hills with the Uji River runs through it. Since the fourteenth century, the area has in charge of supplying for Kyoto's tea culture. The best time to visit Uji's tea fields and tea-processing factories are in May when the first leaves of the season are being picked. There is an area with a small clump of trees called "Oh-Fuku-Dani" where the first tea leaves were successfully planted in 1271. Visitors can encounter the birthplace of Nagatani So-en who made a great effort to revolutionize Japanese green tea. Visitors can take a look at how the highest grade teas are picked by hand, kneaded, steamed, dried, and put inboxes.
Iwashimizu Hachimangu Shrine
The highlight spot in Kyoto Shore Excursions is undoubtedly the Iwashimizu Hachimangu Shrine. Its origin dated back to the time that Gyokyo (the Buddhist priest) enshrined Usa Hachiman no Daijin in 859 with a message from the Gods. Since then, it has been widely worshipped as the protector of the nation. It is also worshipped for bringing fortune and avoiding misfortune. As a Shinto shrine, it is said to have existed some monk's residences on the solemn Mt. Otoko. Stepping through Nanso-mon gate, visitors can see the main shrine that was built by the 3rd Tokugawa shogun - Iemitsu Tokugawa. The shrine attracts a lot of visitors throughout the year, especially baseball and jockey players visit here during the New Year to pray the deity of competition. People often visit Iwashimizu Hachimangu Shrine for Yakuyoke Festival on the 19th January, for the Setsubun event of "Oniyarai" and "Yudate Kagura". In the "Otokoyama Sakura Festival" at the end of March, visitors can also enjoy cherry blossom viewing.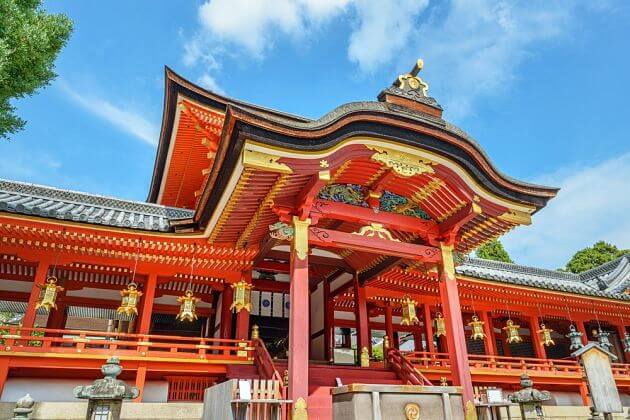 Gekkeikan Okura Sake Museum
Created by the Gekkeikan Brewing Company, Gekkeikan Okura Sake Museum preserves equipment and introduce the history of brewing that has been passed on to the Fushimi area. The company renovated a Meiji period brewery cellar on the banks of the Horikawa River of Fushimi-jyo and made it into a museum in 1987. This is where visitors can have a deeper understanding of Japanese liquor brewing and a variety of aroma. Blessed with a pleasant climate, fresh subsoil water, and qualified rice, Fushimi-Ku is widely renowned as an exclusive location to brew Nihonshu (Japanese liquor) since the Muromachi period (1336-1573). It has always been a nationally leading district for Japanese liquor brewing. It is responsible for 17% of Japanese liquor brewed in the country and extends its reach to over 50 related companies.