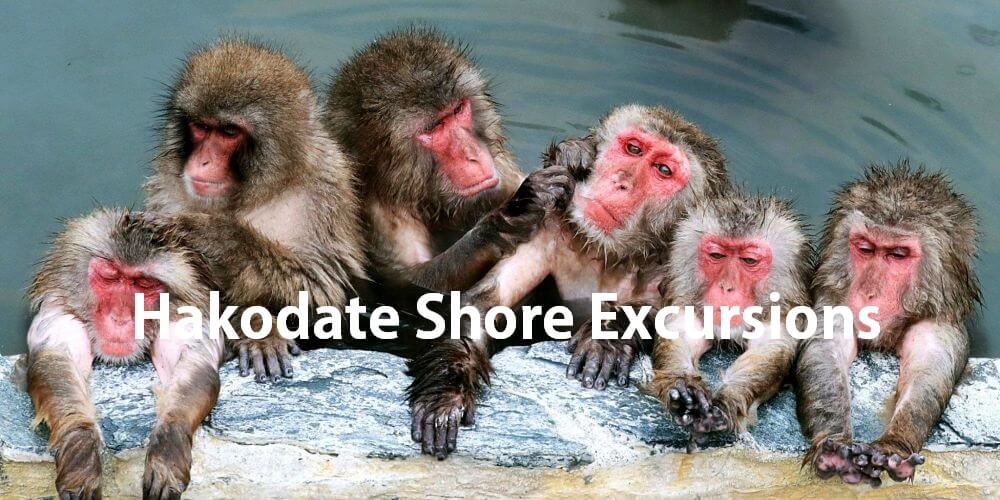 Hakodate Shore Excursions, Day Trips & Tours from Hakodate Cruise Port
Was formerly the first city in Japan open for international trading, Hakodate then rapidly became the largest city in Hokkaido. Since the Great Fire in 1934 destroyed the city dramatically, but then locals rebuilt and be a must-visit destination nowadays. With notable influence from oversea countries revealed in Western-style fort, the view from Mount Hakodate overlooking the bay is breathtaking. Especially, this charming city is famous for its sparkling night views with thousands of lights contrasting with a dark blue sea. Together with beautiful scenery, Hakodate is an abundant source of fresh seafood providing a scrumptious cuisine. The most popular dishes are sushi, shio ramen, and dancing squid which even has an annual festival about it. For overall, Hakodate shore excursions cover all the city' highlights.
Goryokaku Park & Tower

– a scenic park to stroll and admire cherry blossoms

Hakodate Morning Market

– the best place to find fresh seafood

Mt. Hakodate

– provides a stunning view over Hakodate Bay, especially at night

Hachiman-zaka Slope

– the picturesque hilly road

Kanemori Red Brick Warehouse

– the old-fashion storehouse street

Hakodate Botanical Garden

– hot springs where monkeys soaking in to avoid snow
There are many itineraries of Hakodate shore excursions that we present below on our website. We have specially designed for cruise passengers docking at Hakodate port to explore highlights of the city. If you want to design your own tours from Hakodate cruise port, please fill the contact form. Share what you need for a perfect shore excursion and let our experts do their work.
---
Hakodate, located in Oshima Subprefecture, is the third largest city in Hokkaido. Hakodate is known as one of the most famous tourist destinations in Hokkaido for its panoramic sceneries, historical sites, delicious food, and various interesting events. As one of only a few Japanese harbor cities to be opened to foreign trade after the country's era of isolation, Hakodate Port still plays an important role in trading and especially tourism. Hakodate Shore Excursions is here to offer the best opportunity for cruise passengers who stop at the port of Hakodate to enjoy both its charming urban life and natural beauty. Come here and experience the diverse culture of Hakodate as well as some of the most popular tourist spots in Japan:
Sightseeing Spots In Hakodate Shore Excursions
Fort Goryokaku
Fort Goryokaku is a large, star-shaped, Western-style bastion that was completed almost 150 years ago for the defense of Hakodate against the Western invasion. Goryokaku was famous as the site of a civil war between an army of the shogunate and the superior troops of the newly established Meiji government. Later, it served as a public park in the 1910s. Along its moats is over one thousand cherry trees making it one of the best cherry blossom spots in Hokkaido. The blooming season often takes place around early May.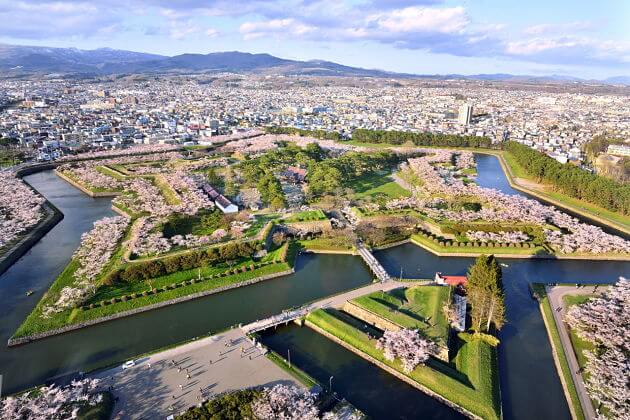 Mount Hakodate
Mt. Hakodate is a 334-meter-high mountain renowned for its million dollar view of the surrounding bay and city. It offers spectacular and striking views which considered one of the three best night views in Japan. To enjoy the night view at the summit, visitors can take the ropeway, bus or car. At the summit, visitors can also find observation platforms, souvenir shops, a café, and a cafeteria.
Goryokaku Tower
Near the Fort Gorokaku is the 107-meter Gorokaku tower which features an observatory offering a scenic view of not only the entire beautiful star-shaped fortress but also the surrounding moats, Mt. Hakodate and the Yokotsu mountain range. The moat is surrounded by around 1,600 cherry trees, making the Goryokaku one of the best locations to view cherry blossom in Hokkaido.
Onuma Quasi National Park
Onuma Park, located only twenty kilometers north of Hakodate, is a resort area best known for its picturesque lakes, mountains, forests, especially the majestic volcano - Mount Komagatake. The park's main attraction between the two lakes Onuma and Konuma which can be explored barely on foot. Visitors can explore the lakes' peninsulas and islands on attractive walking courses, some of which are connected together by small bridges.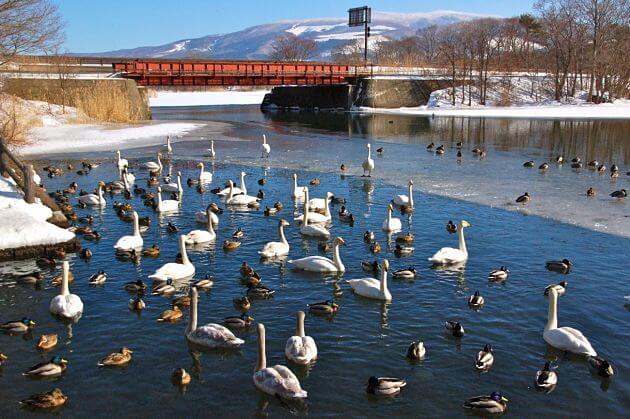 Historical Buildings In Hakodate
One of the highlights of the Hakodate Shore Excursions is visiting some of the most iconic historical sites in the city of Hakodate which will provide tourists interesting information about Hakodate's history and culture.
Red Brick Warehouses
Red Brick Warehouses, which were built in 1909, is one of the typical tourist destinations in Hakodate. Several red brick warehouses now have been renovated into a modern shopping, dining, and entertainment complex. The complex consists of a typical range of trendy souvenir stores, about 50 restaurants, a beer hall, a chapel and sightseeing cruise tours off the bay.
Hakodate City Museum of Northern People
Situated in the former Bank of Japan Hakodate Branch building, the Hakodate City Museum of Northern People was reopened in its current form in April 1993. This museum contains exhibitions and daily life items of northern people such as the Ainu and materials relating to the Orok. The museum offers hands-on experiences where tourists can try the Ainu's traditional papercutting, or make and play their traditional musical instruments.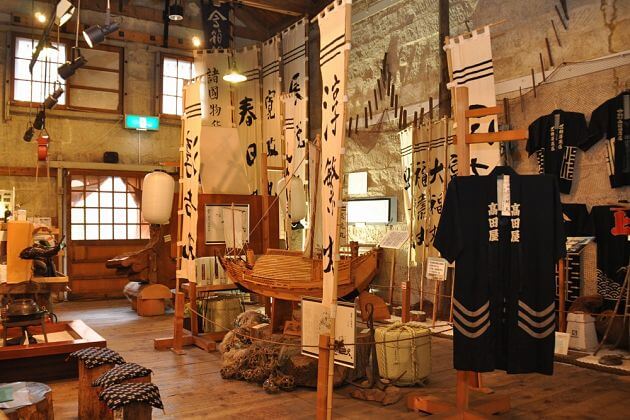 Things To Do In Hakodate
Let's join Hakodate Shore Excursions' team to find out what interesting activities you can do to experience further the real life and significant culture of Hakodate.
Shop at The Morning Market
The Morning Market is located near Hakodate Station. This is where visitors can truly have a taste of Japan when a rice bowl loaded with freshly caught seafood is served right in front of your eyes, All of the seafood here is fresh and juicy which visitors can enjoy in some restaurants located next to the market. Imagining a rice bowl loaded with freshly caught seafood served right in front of your eyes can make Not only famous for seafood but the Morning Market is also crowded for other local treats such as seasonal fruits or even household goods.
Take a walk in Motomachi
Motomachi is home to a range of gorgeous historical buildings, some of which once were foreign residences. It is also best known as the historical heart of Hakodate where acquiring significant European architecture embraced in old consulate buildings and foreign churches such as the Roman Catholic Church, the Russian Orthodox Church, and the former British Consulate building. Take a walk here in Motomachi to enjoy the aesthetic beauty and fresh atmosphere of the streetscape.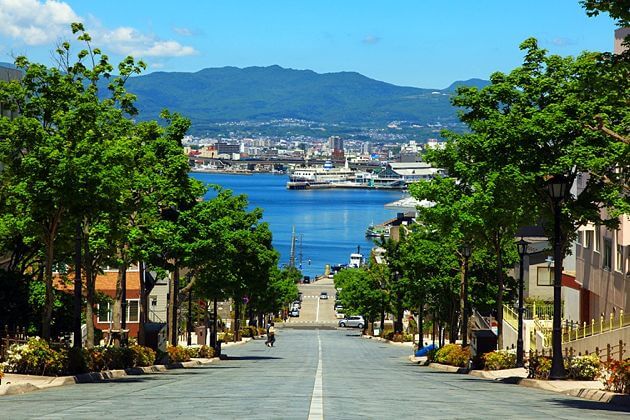 Have a drink at Tea Shop Yuhi
Tea Shop Yuhi is located inside a building that dates back to 1885 and was once used as the Hakodate Quarantine Office. The teahouse, all made out of wood, offers a refreshing place to take a sit and enjoy the scenic view over the harbor. Visitors can also taste the famous traditional Japanese green tea or try on local wagashi which are Japanese sweets that are served with a side of pickles.
Try the street food
Daimon Yokocho is an ideal place for food lovers where visitors can find about 25 street food stalls serving up some of the best dishes in town. Especially the significant ramen with squid stock as well as donburi rice bowls that are full of fresh seafood.