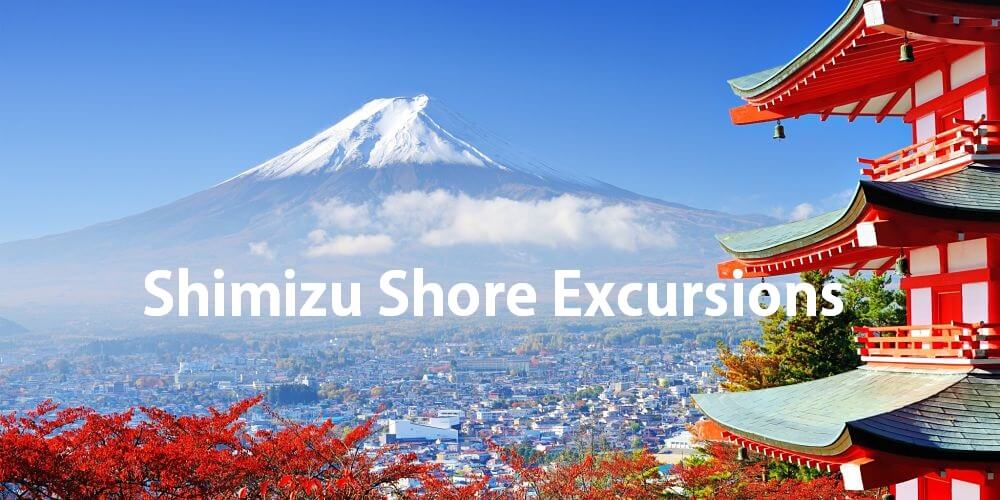 Best Shimizu Shore Excursions, Day Trips & Tours from Cruise Port
Don't have to talk much, Shimizu brings fantastic experiences to visitors coming here even more than the cultural capital Kyoto. Due to its God-blessed location, this city provides dozens of wonderful spots to view Mount Fuji – the symbol of Japan. Visitors can admire this snow-top volcano from various viewing spots including beaches, lakes, shrines, Shimizu port, castles, and so on. Besides, Shimizu has a fascinating nature and magnificent landscape along with long history culture. Shimizu shore excursions and Mount Fuji tours from Shimizu port cover plenty of highlight attractions.
The best spots to

view Mount Fuji

: Lake Ashi, Moto Hakone, Mihono beach, Lake Kawaguchi, and Hakone National Park

Owakudani Valley

– the quaint valley with volcanic sulfur and hot springs

Kunozan Toshogu Shrine

– impresses by its bright red cover and lively paintings

Tokaido Hiroshige Art Museum

– exhibits over 1000 valuable woodblock artwork prints of Utagawa Hiroshige in unique Japanese painting style
We offer a lot of featured Shimizu shore excursions to view Mount Fuji and other attractions. Pick your interesting tours available on the website Japan Shore Excursions. In case you want to design your own tours from Shimizu port, don't hesitate to let us know via filling the contact us form.
---
Things To See & Do in Shimizu
Shimizu Port is known as one of the three most beautiful ports in Japan. Mt Fuji tours from Shimizu Port have long been beloved by visitors as they offer some of the best spots to see this majestic World Heritage. As home to various splendid landscapes and popular attractions, Shimizu awaits with many other enjoyable experiences and activities. Discover this amazing city with Shimizu Shore Excursions to be taken to every must-visit corner of Shimizu including both historical sites and natural scenery.
S-Pulse Dream Plaza
The S-Pulse Dream Plaza is a famous amusement area in Shizuoka city. Its name is taken after the name of a local soccer team – Shimizu S-Pulse. Founded in 1999, which was also the year celebrating the 100th anniversary of Shimizu Port, S-Pulse Dream Plaza is a four-story shopping mall offering various entertaining sites including movie theaters, food courts, museums, and a Ferris wheel. The main attraction in the mall is Shimizu Sushi Museum where various models and colorful displays of sushi are exhibited as well as some sushi restaurants. This is also where more than 300 different events take place throughout the year such as fairs, music events, and other interesting activities.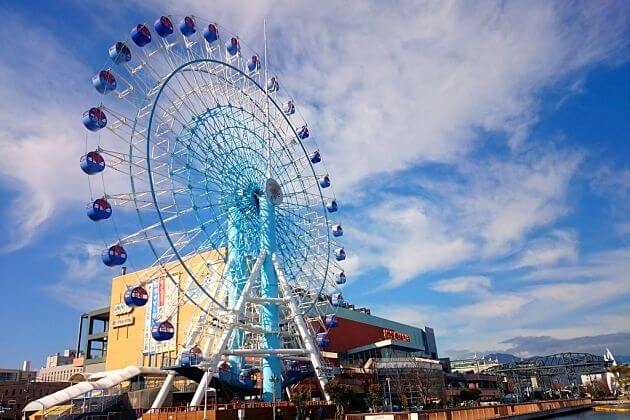 "Kashi no Ichi" Fish Market
The highlight of Shimizu Shore Excursions is Kashi no Ichi Fish Market, which boasts of having the largest catch of frozen tuna in Japan. Also called the "local kitchen of Shimizu port", Kashi no Ichi attracts millions of visitors annually for its eateries offering fresh tastes of raw seafood and about 20 shops run directly by local wholesalers. Reaching some of the more popular eateries at lunchtime might involve the possibility of waiting in line. Visitors can purchase fish and shellfish which have been carefully selected by the professionals. Enjoy shopping all sorts of fresh fish at "Ichibakan" as well as try some lip-smacking seafood dishes such as large portions of sashimi served in wooden ships-shaped baskets. Besides seafood shops, there is also a vegetable store and a tofu store available to widen your range of choices.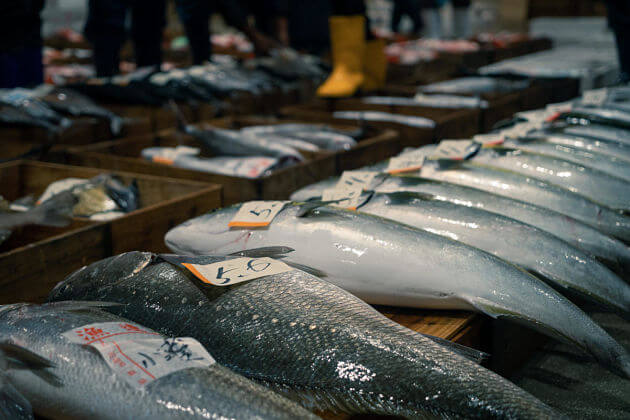 Verkehr Museum
"Verkehr" in German means "transportation" or "interchange". This museum exhibits crafted models and displays of ships at the Shimizu Port and tools used for working at the port. Its main aim is to highlight the important role of a seaport. Through various documents and exhibitions, visitors can learn a lot about the history of the Shimizu Port, as well as the relationship between humans and the sea. Apart from the permanent exhibits, there are also several short-term exhibitions throughout the year.
Kunozan Toshogu Shrine
Kunozan Toshogu was established to commemorate Tokugawa Ieyasu – the great leader honored by Japanese people for uniting the nation. The shrine involves a considerable number of bright red buildings embellished with gold accents as well as vibrant carvings and paintings. Behind the ticket booth stands the Romon Gate, which leads to the main buildings - the Haidenand Honden halls. And the tomb of Ieyasu can be found deeper in the woods. Outside the shrine, travelers can take a look at significant treasures in the Museum of Kunozan Toshogu including Ieyasu's personal belongings, swords, armors, and hanging scrolls. Kunozan Toshogu can be accessed mainly from the south. However, tourists need to climb up the mountain or choose ropeway from the north instead.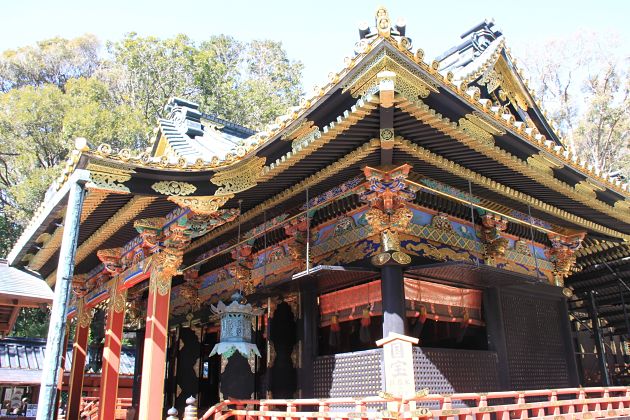 Miho Beach
Miho beach extends for approximately three kilometers along the peninsula's eastern coast and consists of small stones rather than sand. Lies before Mt Fuji, there is no doubt that Miho Beach is among one of the best places to view this spectacular World Heritage. Follow the tree-lined beach is an attractive walking and cycling trail. Swimming areas are on the northern side of the peninsula. There are also other interesting activities such as yacht, board sailing, fishing, and dragnet fishing by watching the ships in the port.
Nihondaira Plateau
Mt Fuji tours from Shimizu port cannot miss Nihondaira Plateau - an ancient plateau with panoramic vistas of Mt. Fuji, the Pacific and tea plantations. Overlooking the Pacific and vast, verdant fields of tea and flowers, with Mt. Fuji, the Southern Alps, and the Izu Peninsula, this hilly terrain's night view has been said to truly represent the spirit of Japan. Visitors can also see the summit of 307-meter high Mt. Udoyama, as well as the neighboring areas. There is also a legend of Yamato Takeru looked at the view here from the top of the mountain.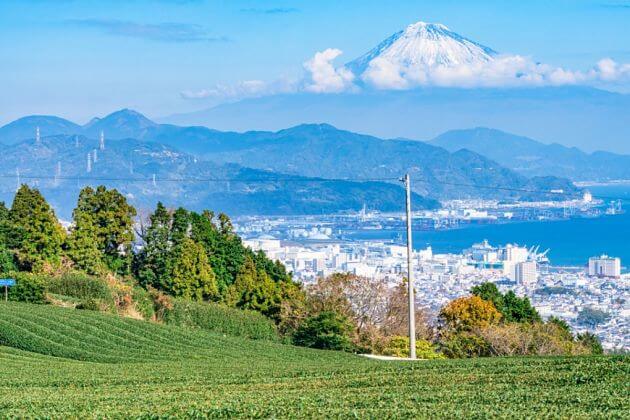 Miho No Matsubara Pine Grove
Miho no Matsubara is on the Miho Peninsula in Shimizu Ward of Shizuoka City, Japan. It's most famous for the seven-kilometer seashore lined with green pine trees. These pine groves were recognized as part of the Fujisan Cultural Site in the World Heritage List. Miho no Matsubara was also selected to Japan's top 100 white sand beaches and pine groves. It has a 650-year-old pine tree called Hagoromo no Matsu which is believed to be where the angel wearing a Hagoromo floated down. The Miho shrine nearby has the duty of preserving a piece of her plumage. In October, a Hagoromo Festival takes place near the site of the old pine tree with many impressive performances. This is also a popular spot to view Mount Fuji and the Izu Peninsula across Suruga Bay. Miho No Matsubara offers spectacular landscapes with green pine trees, white waves, blue ocean and Mount Fuji which appears in various drawings, especially the Hiroshige Utagawa's ukiyo-e.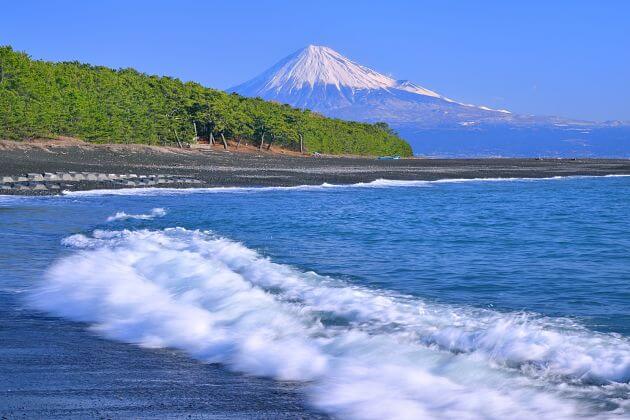 Tokaido Hiroshige Art Museum
Another famous destination that is likely to be included in any Shimizu shore excursions' itinerary is the museum of traditional woodblock prints - Tokaido Hiroshige. Dedicated to Hiroshige and his contemporaries, Tokaido Hiroshige Art Museum is known as a collection of over 1400 prints as well as craft artifacts from Hiroshige's time such as Hina dolls, lacquerware, and exquisite miniature furniture. Besides, there are books and other documents on display with English explanations for visitors to have a deeper understanding. The print by Hiroshige and other artists of the time were beautifully preserved and exhibited with brightly colored. There is a museum shop where visitors can buy a selection of prints, postcards, books, stickers, and other gift items; and with ¥300 you can enjoy making some prints yourself, with paper, blocks and ink all provided.