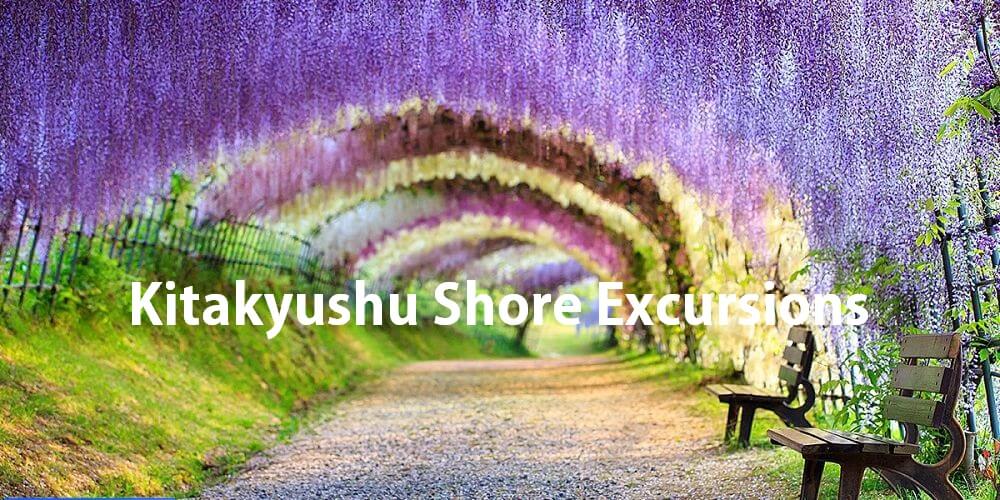 Best Kitakyushu Shore Excursions, Day Trips & Tours from Cruise Port
Thanks to the location as the gateway between Honshu and Kyushu, Kitakyushu used to be an important hub. However, not a populous cosmopolitan or a trading port, Kitakyushu seduces visitors with its wonderful natural scenery. Gain the reward of "Environment Future City" and "Model City for Green Growth", local people' priority is protecting the environment. Moreover, lying next to the sea at one side and mountains in the other, Kitakyushu provides various scenic beauty places. Besides, this city still maintains various traditional values revealed in historical sites such as the castle and local markets. For short, worth-visit attractions in Kitakyushu shore excursions are:
Kokura Castle & Garden

– the iconic landmark and also the best place to view cherry blossoms in Kitakyushu

Kawachi Wisteria Garden

– Large garden with spectacular flower tunnels, one of the 10 most beautiful places in the world that actually exist.

Akiyoshidai Plateau

– nature-created unique karst topography and grassland landscape

Akiyoshido Cave

– natural limestone with quaint terrace-shape formed by water flow

Kitakyushu Manga Museum

– learn about comic history by several permanent exhibitions

Karato Morning Market

– the lively fresh seafood market with reasonable prices.
Various Kitakyushu shore excursions provided by us cover all these attractions above. If you don't find any suitable itinerary, fill the contact us form on our website. Then, our experts will create a tailor-made tour from Kitakyushu port to meet your need.
---
Things To See & Do in Kitakyushu
Hidden behind its cover as a commercial and industrial center of multiples facilities, infrastructures, and enterprises are Kitakyushu's precious cultural values embraced in historic cultural assets, rich cultural history, and appealing natural landscapes. Unveil the true beauty of Kitakyushu on interesting Kitakyushu Shore Excursions which provide access to various attractive tourist destinations including:
Kokura Castle & Garden
Kokura Castle was originally constructed in 1602, the current castle tower is a ferroconcrete reconstruction after being destroyed by fire in 1866. The castle grounds are known as Katsuyama Park, a popular cherry blossom spot that is usually in bloom at the beginning of April. The modern interior of the castle keep involves five floors. It presents the local history through various displays, an interactive zone. Especially, there is a small theater where visitors can get a hands-on and visual experience of past castle life. The castle's top floor boasts panoramic views over the city. A small Japanese garden with pond can be found on the castle grounds. It can be viewed from a traditional Shoin-style building filled with multiple tatami rooms.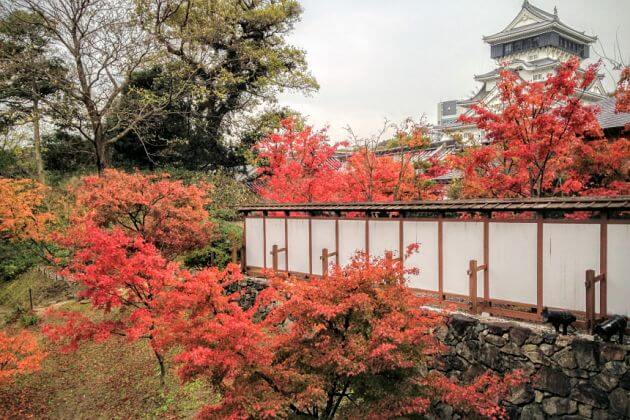 Kawachi Wisteria Garden
Kawachi Wisteria Garden is a must-visit on Kitakyushu Shore Excursions as it ranks among the most popular tourist attractions in the city. Located in the wooded hills south of central Kitakyushu, Kawachi Wisteria Garden is famous for an abundance of beautiful wisteria flowers. It is opened to the public during the wisteria season which is around late April to early May and during the maple leaf season in autumn. The garden's most outstanding features are two 100-meter-long tunnels made of wisteria trees of different varieties and colors, ranging from white to dark purple. Moreover, visitors might be overwhelmed to see a collection of large wisteria trees that together form an enormous roof of drooping flowers. At the top of the hillside garden is a viewpoint that offers nice views over the sea of wisteria flowers and the surrounding valley which is also known for its bamboo groves.
Kitakyushu Manga Museum
Kitakyushu Manga Museum provides a closer look at the history of manga. The museum is on the fifth and sixth floors of Aru-Aru City - a mall specialized in manga and anime, games and idol group paraphernalia. The sixth floor is devoted to a permanent exhibition of the mall while the fifth floor is occupied by temporary exhibitions.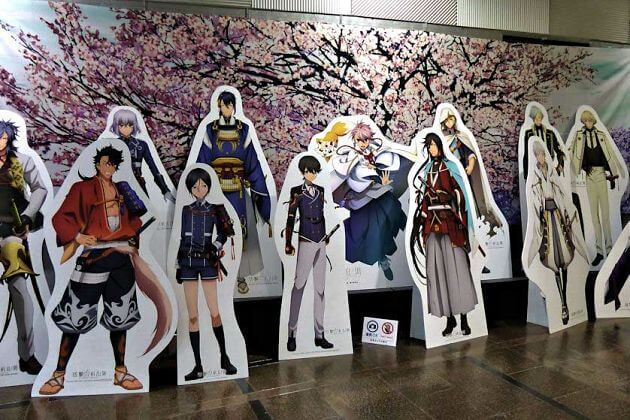 Stepping on the sixth floor, a large mural and figure of Captain Harlock from Galaxy Express 999 greet you with warm welcoming. Then visitors can find displays introducing the life and works of Matsumoto Leiji – one of the most famous artists at the museum who is best known for the Space Battleship Yamato and Galaxy Express 999 series. Also, visitors will encounter the life of other manga artists and the rules of comic development. Particularly, there is a display of "Manga Time Tunnel" which features written manga from as early as 1945. At the end of the route is a comic book library where visitors can read any of the titles available.
Yawata Steel Works
Yawata Steel Works is known as the nation's first modern steel mill. The mill helped to meet the country's demand for the metal to supply the burgeoning shipbuilding, railway, construction and armaments industries. At its peak, the mill was in charge of producing more than 90 percent of the nation's steel. Though the mill has since passed into private ownership, it is still in operation today. On its ground is a few of the historic buildings from the Meiji Period that remain preserve such as the former head office, forge and repair shop. As the mill still operates, it is not allowed to approach or take pictures of these historic buildings. But visitors can view the buildings from the distance at a special platform set up about 200 meters away.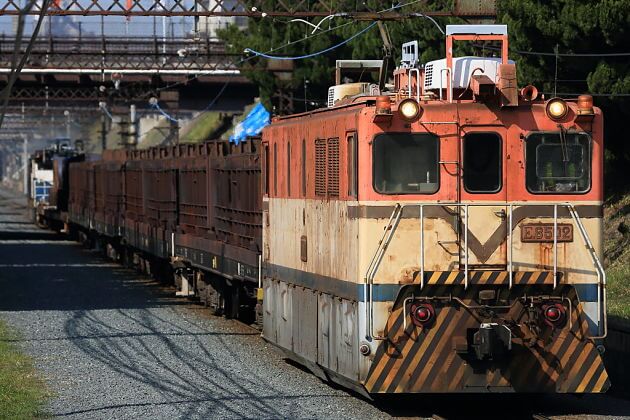 Toto Museum
Toto Museum was opened to celebrate the company's 100th anniversary with showcases of the business and products' evolution. Its complex consists of two stories standing on the grounds of the company headquarters. The first floor has a showroom while a museum can be found on the second floor. The history of Toto is introduced through various displays such as the first ceramic flush toilet seat developed in 1914. Old toilet seats are also on display along with exquisite porcelain tableware that the company used to produce as a side business back in the past. The museum's highlight properly is the gallery exhibiting the evolution of toilets and other Toto products throughout the decades including toilet bowls, urinals, bathtubs, and fittings. The last gallery is full of displays of bathroom units sold overseas, tailored to suit the different regions.
Yamaguchi Tours in Kitakyushu Shore Excursions
Akiyoshidai Plateau
Cruise tours from Kitakyushu port often head to Yamaguchi Prefecture which is home to many beautiful natural landscapes, one of the most prominent ones is the vast lands of the Akiyoshidai Plateau. It is considered a rarely seen sight in Japan for featuring some limestone pinnacles. The karst topography nowadays is the result of the gradual disintegration of limestone by rain for years.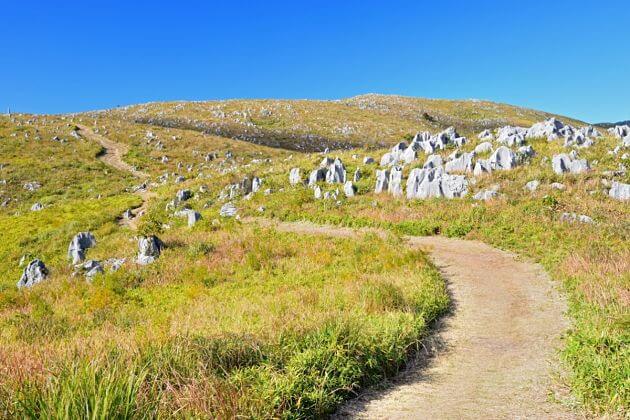 Sitting on a car and visitors can enjoy Akiyoshidai's scenery along the main road or from a network of hiking trails that covers the plateau. Akiyoshidai is also outstanding for its different seasonal appearances: fresh green in spring and summer, reddish-yellow in autumn and white from fallen snow in winter.
Akiyoshido Cave
Akiyoshido Cave can be found below the surface at the south end of Akiyoshidai. The massive limestone cave is about nine-kilometer-long, only one kilometer of which is open to the public. This large cave is easy to navigate, with ample lighting, paved paths and level steps. Along with the courses, visitors can see a lot of natural formations such as terraces of limestone pools filled with water, underground waterfalls and a lovely stream of cobalt blue water flowing.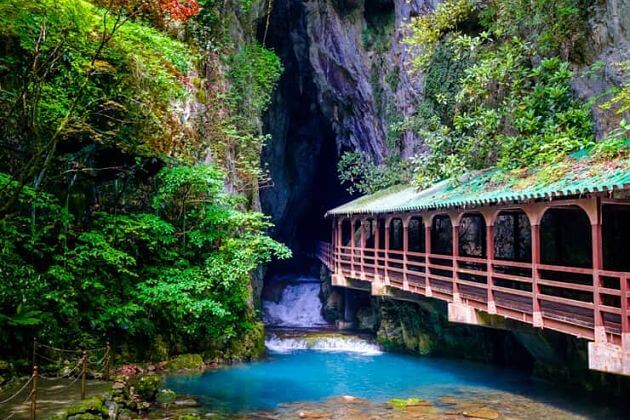 Karato Morning Market
To get the most out of Kitakyushu Shore Excursions, we recommend visitors to wake up early and pay a visit to Karato Morning Market. This lively market in Yamaguchi sell freshly caught fish as well as ready-to-serve meals. Besides common types of seafood such as shrimp, sea urchins, turban shells, and 'ikura' (Japanese red caviar), other local seasonal ingredients are also available. Began as a street market in 1909, Karato Morning Market is most famous for 'fugu' (blowfish), 'tai' (red snapper), and 'hamachi' (yellowtail). Visitors should try a delicacy of mixed seafood donburi rice bowls or have a taste of sushi.