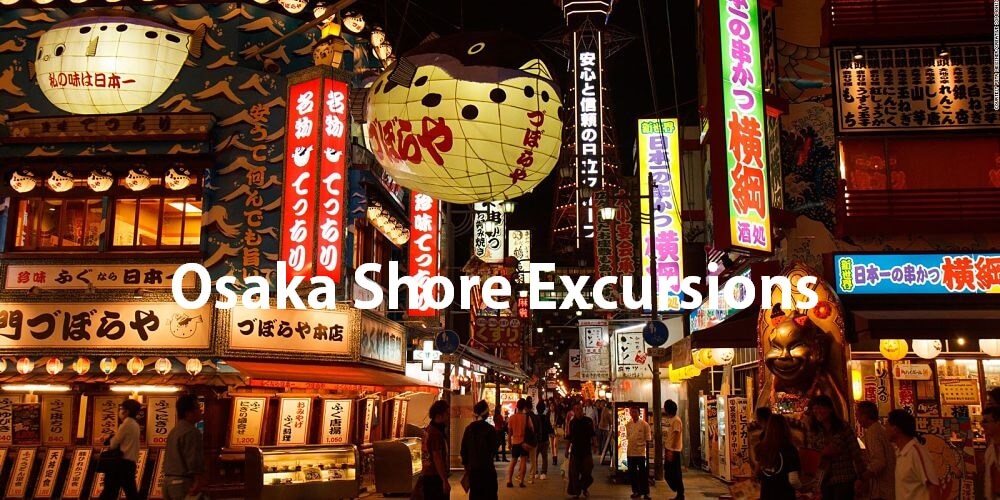 Best Osaka Shore Excursions, Day Trips & Tours from Osaka/Kobe Cruise Port
Instead of representing for a traditional culture like Kyoto, splendid history like Tokyo, Osaka was more likely the dream of businessmen. In fact, this commercial hub is exactly the land of the merchant class to put down the traditional usual conservatism, build their own business, and freely do whatever they want, even craziest things. No longer having idyllic wooden tatami or old-fashioned streets, crowds and colors dominate Osaka in an unexpected but wonderful way. Thus, feasting on unforgettable experiences and chaotic attractions in Osaka shore excursions to Osaka, Himeji, and Kyoto from Kobe port.
Dotonbori Shopping Street

– a must-visiting place for not only shopping but also sightseeing, especially stunning at night

Osaka Castle

– one of the most beautiful castle in Japan with iconic emerald-roofed architecture

Shinsekai District

– feel the nostalgia atmosphere when strolling along quaint streets

Todaiji Temple

– home to the biggest bronze Buddha statue in Japan
Below on our website are various itineraries for Osaka shore excursions to visit highlights in Osaka and cities nearby. If you don't find any suitable trip, please contact us to create a tailor-made Osaka tour from Kobe port.
---
Things To See & Do in Osaka
The more you discover Osaka, the more you will fall in love with the city's world-class cuisine, attractive sightseeing, quintessential culture, and animated nightlife. While visitors are still dazzling with the beauty of Osaka, Osaka Shore Excursions have already taken them to other nearby popular tourist destinations in Japan including Nara, Himeji, and Hakodate that are home to famous attractions and interesting things to experience.
Osaka Castle
Osaka tours from Kobe port will take visitors to the symbolized landmark of the city – Osaka Castle. It used to be the largest castle at the time it originally constructed but then it was destroyed and rebuilt several times until 1997. Occupying an impressive area of two square kilometers, the Osaka Castle involves an Osaka-jo Hall, a shrine dedicated to Toyotomi Hideyoshi, and sports facilities. The castle is prominent compared to other Japanese castles for its sophisticated design with citadels, spectacular gates, steady stone walls, and moats surrounding. This is one of the most popular places to view cherry blossoms in Japan, the best time is usually said to be in early April.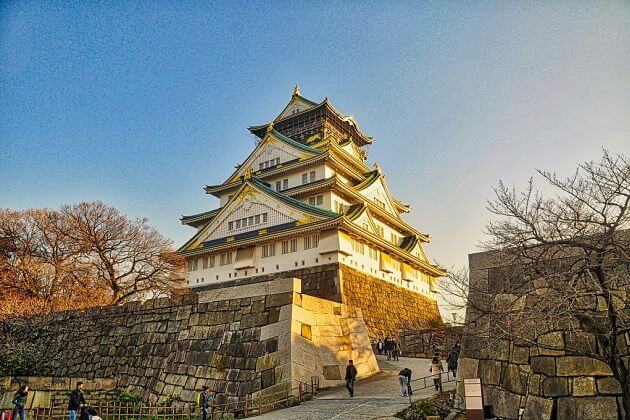 Umeda Sky Building - Floating Garden Observatory
Located in the Kita district of Osaka, Umeda Sky Building is an incredible high rise building that is also known as the "New Umeda City". The building is 173-meter tall that consists of two towers connected by the "Floating Garden Observatory" on the 39th floor. The observatory offers tourists panoramic views of the city through its clear windows and from its open-air deck. In the basement is a restaurant that replicates a town of the early Showa Period, while offices occupy most other floors.
Dotonbori Shopping Street
Known as one of the most popular tourist destinations in Osaka Shore Excursions, Dotonbori Shopping Street is a shopping and entertainment hub where visitors can also experience Osaka cuisine in a lot of 24-hour open restaurants. It is especially eye-catching at night with hundreds of attractive neon lights and mechanized signs. One of the most famous ones is Glico Running Man sign - a large neon sign featuring a man running on a blue race track positioned directly above the Dotonbori bridge.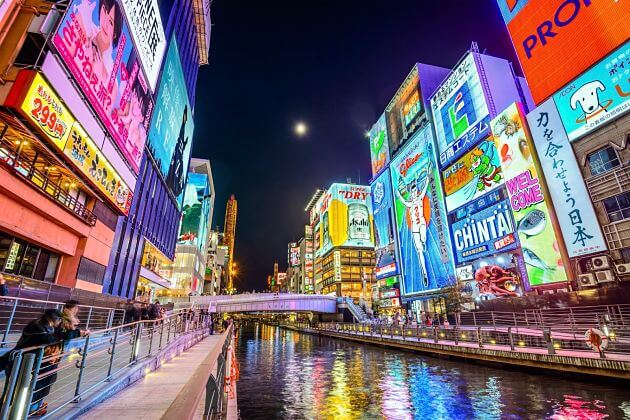 Shinsekai District
Shinsekai district used to be developed before the war but then neglected in the decades. Following the success of the National Industrial Exposition in 1903 that attracts over five million people, the area was improved and developed into what we see now. Shinsekai's northern half was influenced by the luxuriant Paris while the southern part was built as a replica of Coney Island in New York. At the district's center is the Tsutenkaku Tower - the iconic symbol of Shinsekai that was established in 1912 after Paris' Eiffel Tower.
Universal Studios Japan
It was the first theme park of the Universal Studios brand to be established in Asia. With an impressive area of 39 hectares, Universal Studios Japan is the second-most popular amusement park in Japan after Tokyo Disney Resort.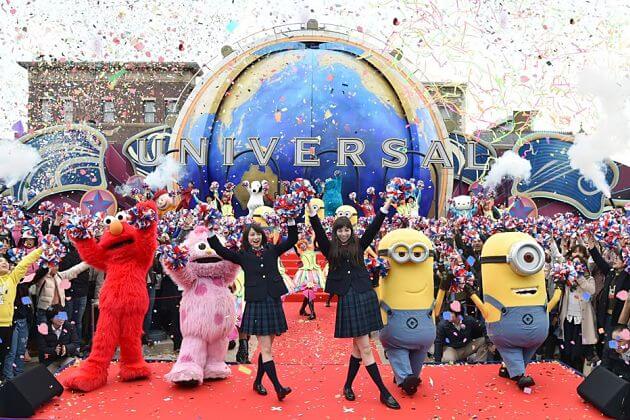 Universal Studios Japan can be divided into eight parts: Hollywood, New York, San Francisco, Jurassic Park, Waterworld, Amity Village, Universal Wonderland and The Wizarding World of Harry Potter. There are a wide variety of amusing entertainment sites including child-friendly carousels, thrilling roller coasters, and simulators based on famous movies such as Spiderman, Back to the Future, Terminator 2 and Jurassic Park. The park is beloved by children for offering opportunities to take photos with their favorite characters such as Snoopy, Hello Kitty and the puppets of Sesame Street. Various shows are held every day, especially there is a night parade featuring illuminated floats that are paraded through the streets.
Things To See in Nara
Todaiji Temple
Osaka tours from Kobe port offer a trip to discover the beautiful Nara City which is home to nostalgic tourist destinations such as the Todaiji Temple. It was built in 752 as one of the most influential and powerful Buddhist temples in Japan. The Daibutsuden (Todaiji's Main Hall) was recorded as the world's largest wooden building. This massive building is where one of Japan's largest bronze statues of Buddha (Daibutsu) can be found. The seated Buddha is 15-meter tall representing Vairocana and is flanked by two Bodhisattvas.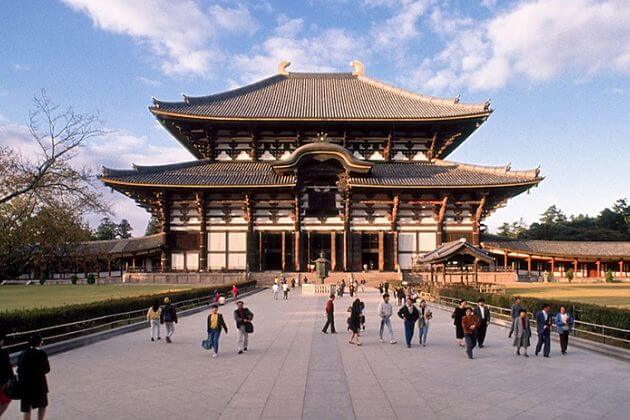 Nara Deer Park
Cherished as a natural treasure, Nara Park is a large park located in central Nara that is famous for freely roaming deers. With an impressive number of nearly 1200 deers, the park provides a great space for visitors to enjoy the beauty of nature. Cherished as a natural treasure, Nara is worth-visiting The park is home to nearly 1200 deers. Some deers can be quite aggressive but some are taught to learn how to bow and ask visitors to be fed.
Places To Visit in Himeji
Himeji Castle
One of the beloved destinations in Osaka day tours from cruise port is Himeji Castle - Japan's most palatial castle prominent for its elegant white appearance. Highly appreciated as a national treasure and a UNESCO World Heritage Site, it consists of over eighty buildings and ninety-three rooms spread across multiple baileys linked by lots of gates and winding paths. Having gone under restoration work for years but still maintained its attractive white exterior and was reopened in 2015. Himeji Castle is also known as a popular cherry blossom spot, especially in early April. As the tickets are limited, only some visitors are allowed to enter the main keep.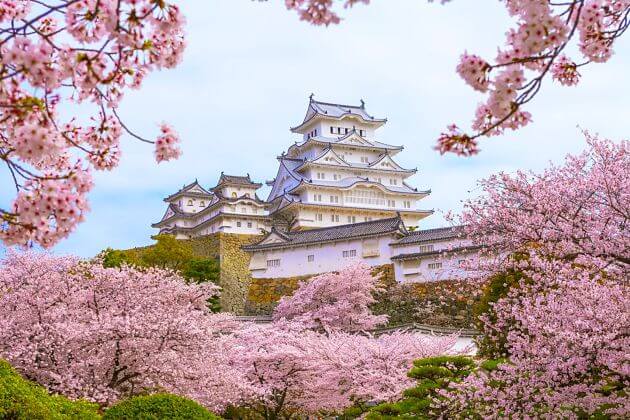 Kokoen Garden
Opened in 1992, Kokoen Garden is a Japanese style garden constructed on the former site of the feudal lord's west residence (Nishi-Oyashiki). It involves nine separate, walled gardens designed in various Edo-period styles. There is a garden of the lord's residence that features a pond, a waterfall, a tea garden and a tea ceremony house offering visitors green tea, a pine tree garden, a bamboo garden, and a flower garden.