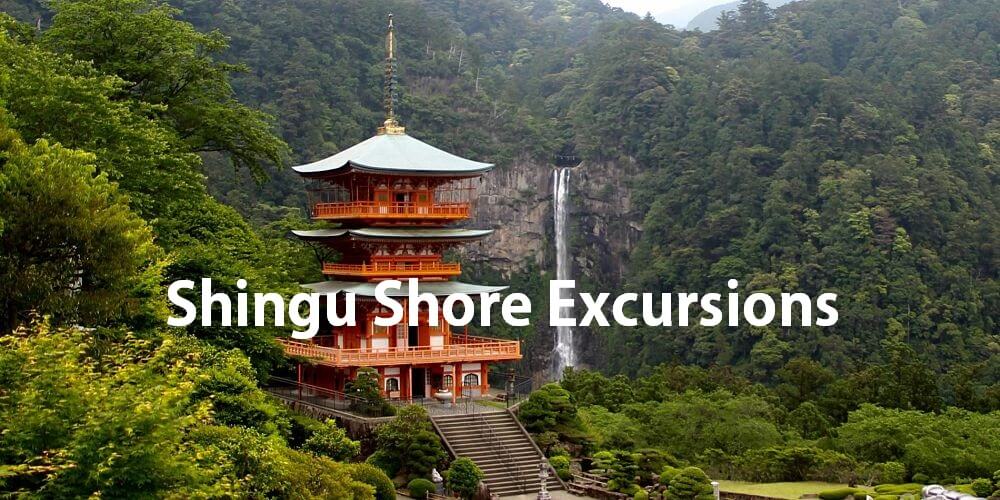 Various Choices for Shingu Shore Excursions, Day Trips & Tours from Cruise Port
Nestling deeply inside the verdant mountains of Wakayama, Shingu is a secret place with a unique religious culture. Thus, this spiritual heartland is home to various sacred temples and shrines making the second name as Kumano Sanzan. Among all, Shingu shore excursions include the three most famous religious sites are Hongu Taisha, Nachi Taisha, and Hayatama Taisha. Especially, these shrines create an important pilgrimage route for over 1000 years and become a UNESCO World Heritage Site.
Besides its spiritual meaning as the abode of the Gods, Kumano delivers a wonderful nature with unbelievable beautiful sceneries. Not only having an especially charisma coastal line, but this city also offers natural hot springs to experience. In addition, its large amount of high waterfalls and lush green forests make Shingu be a worth-visit destination in Japan. Furthermore, don't miss the chance to dine on unique local cuisine with never-heard-before dishes. By taking our interesting Shingu shore excursions, cruisers will catch the valuable chance to experience incredible activities and sights.
Kumano Hayatama Taisha Shrine

– sacred shrine home to the 1000-year Nagi tree/li>

Kamikura-Jinja Shrine

– locates at the top of 500-stone-step cliff hiding with lush green lines of tree surrounding/li>

Kumano Nachi Shrine

– Kumano' iconic landmark with 4 stories covered by the scarlet appearance/li>

Nachi Falls

– the tallest waterfall in Japan locates next to Kumano Nachi Shrine, together create a spectacular sight/li>

Kuwanoki Falls

– provides a surreal scenery inside the green forest and different levels of stone range

Doro-kyo Gorge

– enjoy a jet boat tour along this magnificent gorge
We provide a wide range of Shingu shore excursions to Kumano on our website. If you don't find any suitable itinerary, please contact us to freely customize your own tours from Shingu port.