General Information
Tour Code:
Duration: 7.5 hours
Start/End: Iwate Miyako port/Iwate Miyako port
Highlights: Jodogahama, Sanno-iwa Rocks, Kitayamazaki Cliffs
Tour Customizable: Absolutely! (Tell us your specific requirements in the inquiry form)
Full Itinerary
Your private driver and guide will pick you up from Iwate Miyako port. Start your day with a trip to Jodogahama or also known as "Pure Land Beach" – one of the most famous scenic spots on the Rikuchu Coast. Just like its name, Jodogahama is prominent for its beautiful white pebble shoreline and clear, calm waters punctuated by jagged, rocky islands. Its clean water and gentle waves making it a perfect place to go swimming. Also, you can look out for crabs and small fish in the tide pools while taking a stroll along the esplanade from the beach to the marine house. There is a bus terminal building, a marine house, a rest house, as well as a boat rental service available for tourists.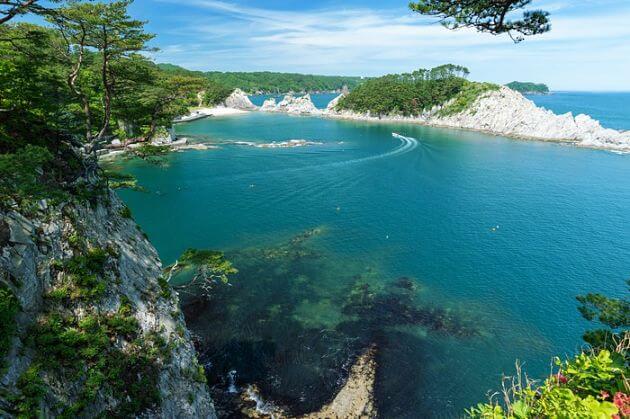 Then take JR Miyako Station to transfer to Sannoiwa Rocks – a fantastically-shaped rock that boasts to be the most spectacular in the Sanriku coastal. There is a sea cave in Otokoiwa, and it is said to bring about luck to whoever goes through the hole. Follow the promenade nearby and you will be taken to the majestic figures of the rocks.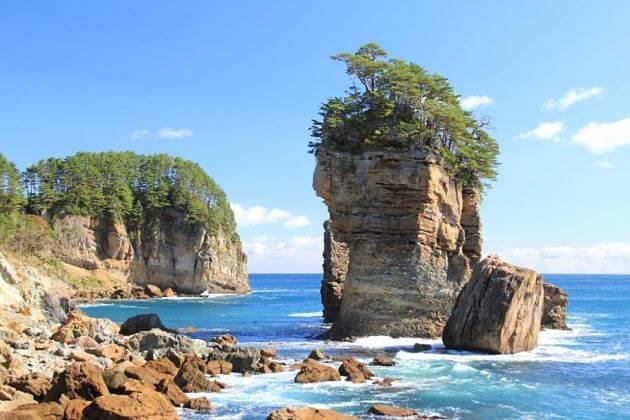 Later, head to Kitayamazaki Cliffs where 200-meter cliffs stretch across 8 km of coastline. From the observation deck, a dynamic view is opened in front of your eyes. Through the telescope, you can even see some rare birds of prey such as falcons and ospreys. On a clear day, you are likely to see Todogasaki Lighthouse – the easternmost point on Honshu Island. Then enjoy your holiday by taking a walk in a 718-step esplanade from the observation deck at the top of the cliff to the shore. To closely approach rocks and cliffs for a dynamic view, you can also go on a tour of the nearby sights on a fishing boat, which leaves from the Port of Taro. The trip ends when driving you back to the port for next Japan shore excursions.