Charmed with ancient religious sites and spectacular scenery, the city of Kamakura is a worth-visit destination in Tokyo day tours from cruise port. Tsurugaoka Hachimangu Shrine was originally founded by Minamoto Yoriyoshi in 1063, then enlarged and moved to its present site by Minamoto Yoritomo, and has become the center of the great samurai city of Kamakura. The shrine was dedicated to Hachiman, the Shinto god of war and patron of the Minamoto family.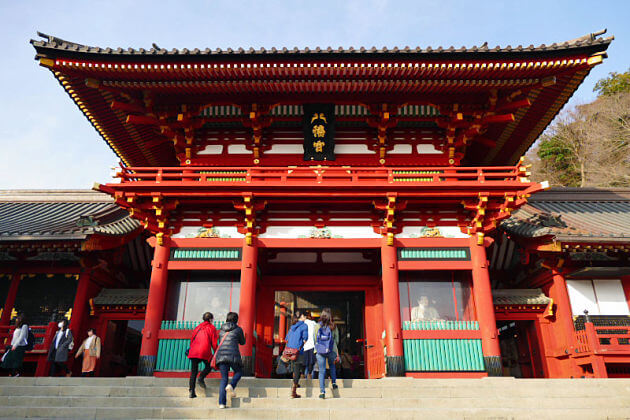 When the Kamakura city was the capital of Japan, Tsurugaoka Hachimangu took on a pivotal role not only as a religious foothold but a parliament as well. Today, the lotus ponds, arched bridge, pigeons, and bright sheen of the shrine give little clue to its history. The tree-lined pedestrian lane stretches from the shrine all the way to Yuigahama Beach, with three massive tori (a traditional Japanese gate) set at intervals along the route to signal the approach to the shrine. On both sides of the pathway are souvenir and antique shops selling lacquerware, pottery, and folk art. Tsurugaoka Hachimangu Shrine can be reached when you climb up to the top of 62 steps. At the top of the stairs, from which there is a panoramic view of the sea. The red-painted building is not terribly notable – the grounds are a major attraction here.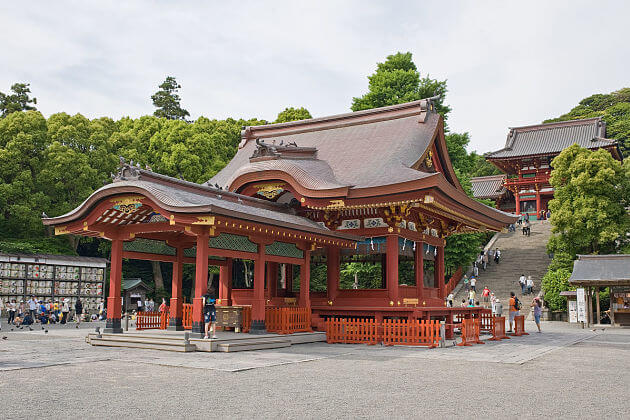 Today, cruisers hopping on Japan shore excursions consider the shrine as an active busy beehive, full of activities and events throughout the year. The shrine attracts over 2 million visitors in the most notable festivals is New Year and horseback archery performed on the pedestrian path to the shrine in April and September.