Spanning between Teramachi and Shinmachi, one block north of Shijo, Nishiki Market is known as Kyoto's pantry by the locals. It is the largest traditional food market in the city lined with shops selling fish, meat, dried goods, side dishes, yuba (dried bean curd skin) and Kyoto vegetables. Thanks to its important role in the fishing industry of the region, Nishiki Market is one of the most bustling places you will visit in Kyoto shore excursions.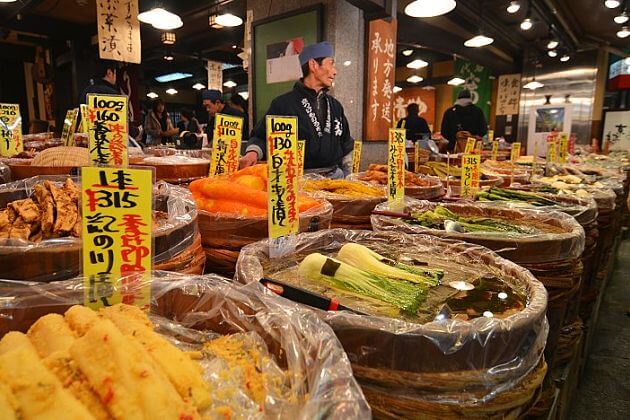 To be more specific, this centuries-old market consists of two types of shops and two types of shoppers. The first category caters to locals: homemakers, chefs, and cooks. The other category of shops caters to the growing legion of tourist shoppers who stop and start every few meters to discover new items. Nowadays, the development in every field including economy and industry leading to a new face of this market. Modern food and souvenir shops are taken place. However, there are still many traditional shops for you to taste the Japanese old-fashioned shopping street vibe. Every ingredient to make a delicious Japanese meal is on display such as fresh tofu, fish, shellfish, seafood, Kyoto special vegetables, Japanese green tea, and pickles. If you are hungry, take a seat and enjoy takeaway food like sashimi or yakitori. Take a deep breath and smell of fish, pickles, roasted chestnuts, ground sesame, and mochi will fill your lung.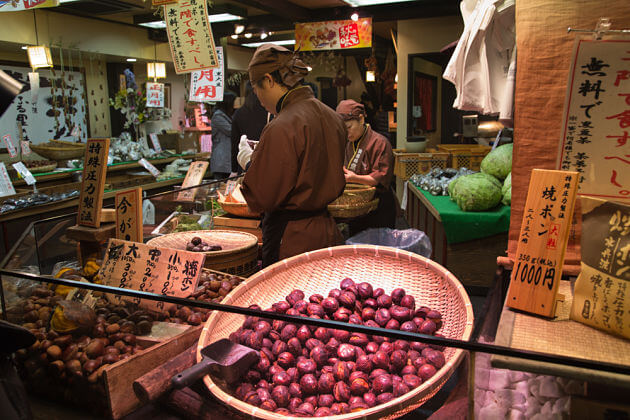 Like other food markets, the products in Nishiki Market keep pace with the seasons. Especially, late summer to early autumn is the best time to collect the two Kyoto specialties: chestnuts and matsutake mushrooms. This kind of mushroom is in the same level with truffles as the most expensive mushrooms. To save your wallet, Japan Shore Excursions recommend cruisers to just settle on chestnuts – the delicious nuts with a more reasonable price.