Japan is an interesting land filled with uncountable secrets that even local people didn't know. Therefore, even you visit this country several times, there are still hundreds of worth-see attractions and experiences to explore. From surreal natural sights such as mystery valleys, high waterfalls, and unique ponds to incredible man-made structures like beautiful gardens and holy shrines. Below on our website are Top 9 unpopular but incredible places in Japan that you might miss before. Check out the list and together we will discover authentic Japan!
Iya Valley
Iya Valley is a serene and mountainous valley hiding secretly in a corner of Tokushima Prefecture. The valley is home to various steep mountain slopes and massive rocky gorges where plant patterns growing up green. These gorges are connected by vine bridges. No one knows exactly the time these bridges were built, but only three of them still exist. However, only Iya Kazurabashi and the Oku-Iya Kazurabashi bridges allow visitors to pass by. The view over the valley is spectacular during autumn foliage season.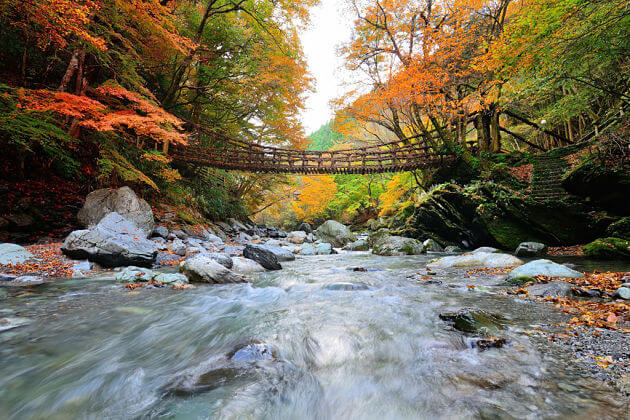 Kenrokuen Garden
Despite being widely known as one of the three most beautiful landscape gardens in Japan, Kenrokuen Garden is still a new name with first-timers coming to Japan. The garden is home to many little beautiful sites such as stone bridges, walking trails, traditional teahouses, different kinds of plants and colorful flowers. Especially, Kenrokuen attracts countless visitors during spring when plum and cherry blossoms covering the sight, and autumn with fire orange maple trees. Our ready-made Kanazawa shore excursions include a visit to this site.
Nachi Falls & Nachi Taisha Shrine
Shingu shore excursions bring you to a sacred land with hundreds of ancient mysteries unrevealed. Standing nearby Japan tallest waterfall with a single drop 436 feet high – Nachi Falls – is Nachi Taisha Shinto Shrine. With a stunning scarlet appearance, this 4-story shrine is highlighted with the magnificent background of the rocky mountain and high falls. Witness the beautiful combination of nature-born waterfalls, mountains, and plants with an artificial structure showing an important spiritual meaning.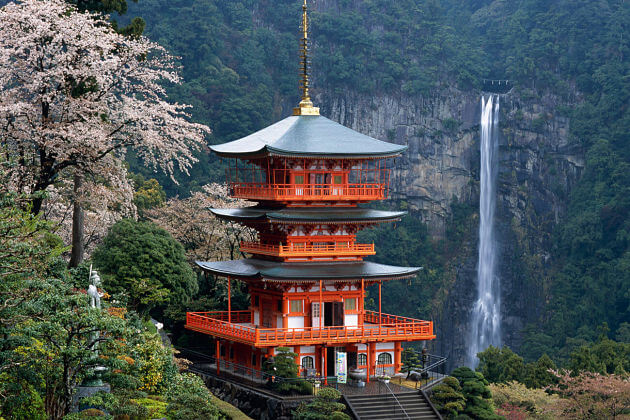 Hokkaido Blue Pond
Aoiike, or Blue Pond in Hokkaido is one of the most surreal sights in Japan. The name tells all, the pond has a unique light blue color with tree stumps protruding from the surface of the water. The gloomy look is reflected by these lifeless trees without green leaves. Surprisingly, Blue pond is artificial which is a part of an erosion control system to fight against mudflows and volcano occurring. However, the blue color is naturally caused by minerals dissolved.
Hitachi Seaside Park
Lost in a dreamlike paradise with fields of nemophila blooming all over the place. More than 4.5 million tiny flowers as an extremely large blanket cover the park with a vivid baby blue color. This wonderful sight can be seen every April when the blossoms are fully blooming. However, during autumn, the park is home to Kochia shrubs bringing a breathtaking bright crimson color.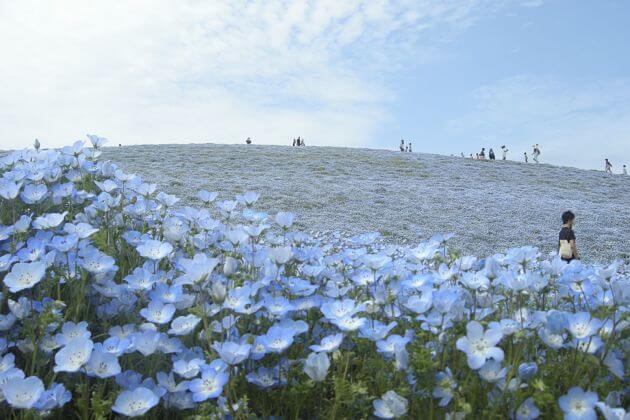 Gokayama Historic Village
Gokayama is not the usual historical village with traditional customs and culture. This UNESCO World Heritage Site is famous for being home to the gassho-zukuri farmhouses with a unique appearance. These houses were built centuries years ago feature huge thatched roofs to prevent from heavy snow falling in the area. The serene view combining with a peaceful atmosphere creates a secluded place to stay away from the bustling life. Gokayama Historic Village can be reached by both our ready-made shore excursions to Toyama and Kanazawa.
Arashiyama Bamboo Grove
Arashiyama, or another name as Sagano Bamboo Grove, deserves more attention than the present. This incredible forest has wind-blowing long paths through green groves including thousands of bamboo trees growing straight to the sky. The wind blowing and the sun shining create a fascinating enchanting effect. Listen to the mellow sound when bamboo stalks swaying with the wind. This already-famous site is included in many itineraries of Kyoto shore excursions from Kobe or Osaka port.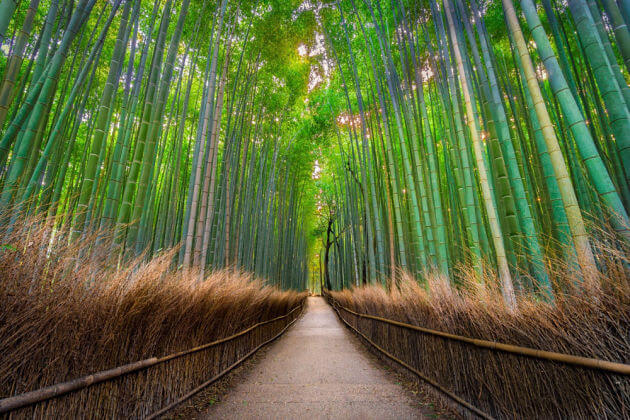 Kawachi Wisteria Garden
Another heaven for flower-lovers in Japan is Kawachi Fuji Gardens included in Kitakyushu shore excursions. The garden is well-known for the most beautiful wisteria tunnel and also one of the most surreal sights in the world. Feel like Tinker Bell in Neverland with 22 different wisteria species marking a fairytale-look. Violet flowers fully bloom from late April to early May while stunning yellow-orange-red autumn foliage can be seen in November.
Hakodate Tropical Botanical Garden
Japan is the kingdom of hot springs that over 30,000 natural hot springs are existing in this country. However, they never are the same. Despite attracting visitors with its hot spring resort, Yunokawa Hot Springs area gains public attention with the Tropical Botanical Garden. The garden is home to around 100 free-ranging Japanese snow monkeys who leisurely dip themselves in the steaming mineral water to avoid the cold outside. The peak visiting season is from early December to May when snowfalls cover the place and monkeys warm their body in the pool with some little stagnant snowballs on their fur.