Along with cherry blossom season in spring, Japan is mostly visited during autumn with red-orange leaves. In this season, autumn foliage covers all the sights of Japan from mountains, forests, theme parks, to streets. The scenery gently transforms from green to yellow, orange, and finally red which can be enjoyed in various ways such as by train, bus, or ropeway. Moreover, Japan has many special sites to view autumn foliage such as temple grounds, pagodas, and castles. The autumn leaves season usually ranges from November to December in many places across this country. Japan Shore Excursions would like to introduce Top 9 Places to See Japan Autumn Leaves.
Kyoto – Best Places to See Autumn Leaves
Arashiyama
Arashiyama is mostly famous for being home to the largest and finest bamboo grove. However, this place is also best tasted in autumn when the mountains are covered by red-orange forests. With this lively background, Arashiyama's temples shine brightly and become more sacred. Hop on Kyoto shore excursions to visit Arashiyama and experience this fantastic theme sight.
Best time: Late November to early December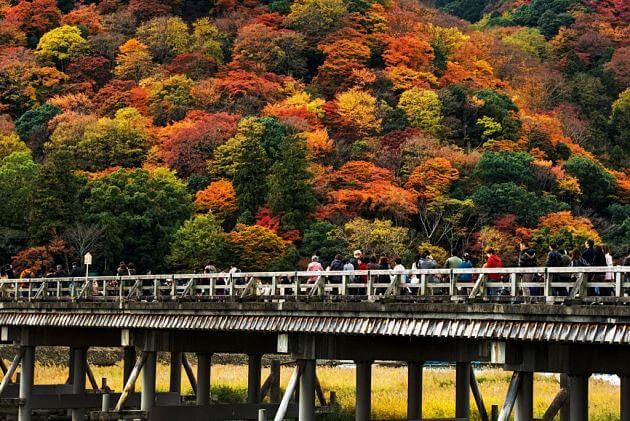 Tofukuji Temple
Without any color effect, Tofukuji Temple is one of the most worth-visit attractions in Kyoto. The temple ground is home to the spectacular autumn foliage. Also, the view over the Tsutenkyo Bridge is extremely breathtaking. Be careful of crowds when leaves fully turning into warm colors.
Best time: Mid to late November
Kiyomizudera Temple
Being one of the most important religious and tourism sites of Kyoto, Kiyomizudera, or Pure Water Temple, is also a popular spot in Japan to experience the special autumn vibe. Surrounding the temple are hundreds of trees turning into autumn color. Standing on the old-fashioned large wooded stages, visitors can witness the wonderful scenery over sunset.
Best time: Late November to early December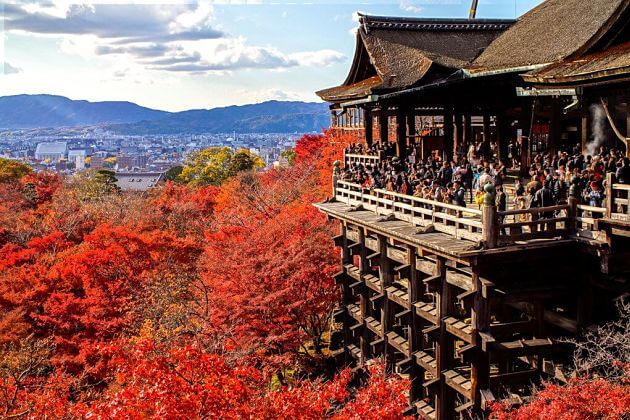 Todaiji Temple & Nara Deer Park
This large park is home to hundreds of freely roaming deer, museums, gardens, Todaji Temple, especially, maple & ginkgo trees. Lovely deers gently roam around the park creating a peaceful atmosphere that visitors can see them kneeing to be fed. These deers walking on the surface with full of falling leaves around Todaiji Temple – the most famous Buddhist temple in Nara. Your eyes are covered by red and orange leaves combined with Japanese architecture landmarks.
Best time: Mid November through late November.
Tokyo – Beautiful Capital with Japan Autumn Foliage
Jingu Gaien Ginkgo Avenue
The official tree of Tokyo is Ginkgo which lined up many streets with yellow velvet shining the scenery. The most famous place to see Ginkgo is Icho Namiki, or Ginkgo Avenue located in Meiji-jingu Gaien Park. The sides of the streets are two tree lines pointing up to the contrasting blue sky that makes a surreal fashionable sight.
Best time: Late November to early December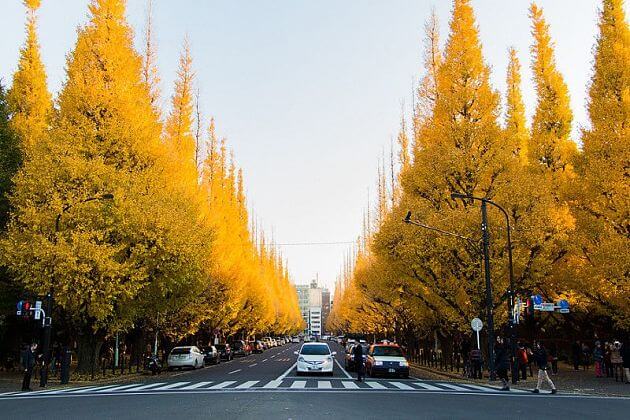 Koishikawa Korakuen Garden
Mention about Japanese landscaped garden, Koishikawa Korakuen is the most beautiful and famous garden in Tokyo. Thanks to housing for many kinds of trees which turn different colors in autumn, this garden is one of Tokyo's most pleasant autumn color spots. Besides, this place is also well-known for the gorgeous scenery with idyllic ponds, stone structures, and poetry bridges. Don't miss the chance to visit Koishikawa Korakuen in your Tokyo shore excursions.
Best time: Late November to early December
Around Mount Fuji – the Symbol of Japan
Fuji Five Lakes (Fujigoko)
The symbol of Japan – Mount Fuji does not have a suitable condition for plants to grow up. However, the scenery around the mount is spectacular during autumn, especially in the Fuji Five Lake region, one of the best places to view Mt Fuji. Have to mention the northern shores of Lake Kawaguchiko. Rent a boat to taste the beautiful lakes and admire the iconic top-snow mountain in the background of autumn leaves.
Best time: Late October to mid-November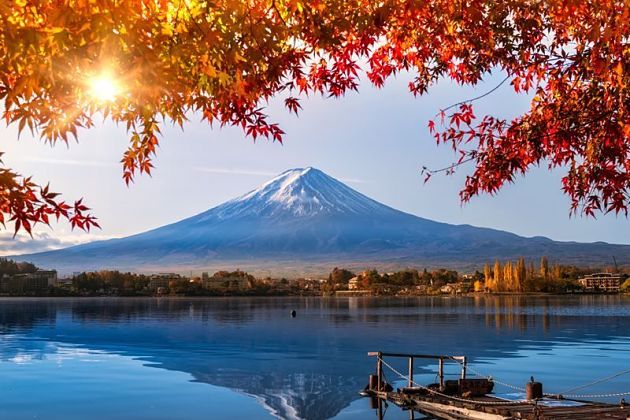 Hakone
Another wonderful place to view Mount Fuji is Hakone, especially during autumn. This spot is also one of the most popular places to admire the vivid autumn colors. In particularly, Choan-ji Temple provides picturesque fall foliage to enjoy the iconic red and gold autumn vibe. Our ready-made Shimizu shore excursions deliver cruisers to enjoy the wonderful scenery in Hakone and also view Mount Fuji.
Best time: Early to late November