Japanese cuisine has always been famous for its cultural significance. It is so popular that you can see its appearance in every corner of the world. Japanese food is most famous for its culture significant resembled in special dishes such as sushi, soba,… as well as its refined and elegant flavors. Japanese dishes not only taste good but also offer delicate visual beauty. Especially, it is made from carefully select seasonal ingredients to highlight the pure in taste, the simplicity in texture as well as to represent for the subtle Japanese chef. There is no surprise that Japanese cuisine is listed as one of only three national food traditions by the UN. Do all of these marks make you curious enough to find out the list of traditional Japanese food prepared by our Japan Shore Excursions' experts?
Best Traditional Japanese Food & Dishes to Try
Sushi – the most famous traditional Japanese dish
There is no need to talk much about this major symbol of Japan. Sushi is traditionally made with medium-grain white rice and vinegar. While some are often served with seafood, salmon, tuna, crab, etc, others are prepared with pickled ginger, wasabi, and soy sauce. Sushi has a boundless variety of types and forms depending on different regions and cooking styles. Some of the most popular ones are nigiri, gunkan, norimaki, temaki, oshizushi, etc. As Japan consists of multiple islands surrounded by an ocean, it is incredibly rich in seafood supply. Especially, Japan Shore Excursions can offer tourists cruises to Yokohama city to visit Toyosu Fishery Market where visitors can try on fresh and delicious sushi at some of the most famous sushi restaurants in Japan.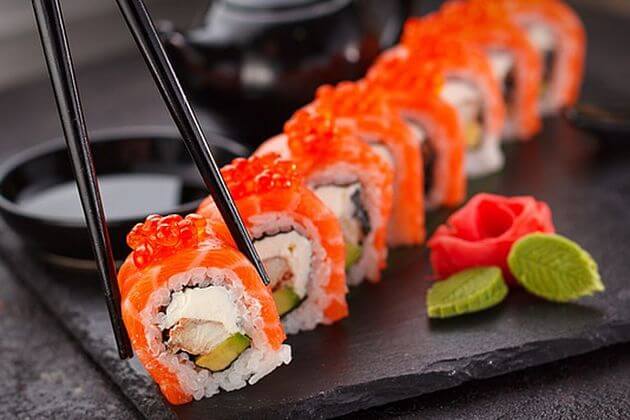 Sashimi – the best way to enjoy Japanese fresh food
Sashimi can be defined as thinly sliced, raw food. Many people assume sashimi as seafood but other types of meats and foods like beef, chicken, horse or yuba tofu skin can also be served as sashimi. To make the presentation more appealing, Japanese chef often serves slices of raw food decorated with daikon or shiso leaves. Some common types are tuna, salmon, sea bream, mackerel, etc.
Tempura – the must-try dish when you visit Japan
Tempura is a must-try Japanese dish of battered and deep fried fish, seafood, or vegetables. This kind of food is truly addictive as it is crispy on the outside and tender on the inside. People living in the Kanto region around Tokyo often eat tempura with a dipping sauce, while in the Kansai region around Kyoto and Osaka it's dipped in flavored salt instead. Tempura is normally served as a main dish, a side dish or a topping for udon and soba noodle dishes.
Udon – the most popular food in Japan
Udon is a thick and chewy noodle made from wheat flour which can be served both in hot and cold dishes. It is known as one of the most popular foods in Japan for its elegant taste and interesting slurping sounds people made while eating the noodles. There are various kinds of udon such as sanuki udon from Kagawa prefecture in southwest Japan, kishimen from Nagoya in central Japan, and inaniwa udon from Akita in northern Japan.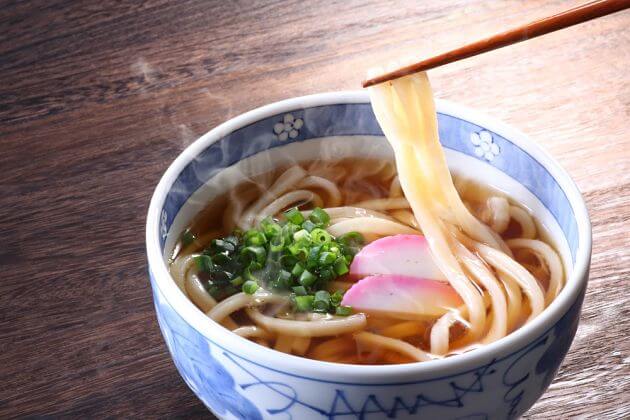 Soba – the favorite noodle of Japanese
Soba is another type of traditional noodles dish in Japan. The noodle, made from buckwheat flour, is much thinner than Udon and is considered very healthy. Soba can be eaten both in hot broth or chilled with a dipping sauce. Toshikoshi soba, or often known as year-end soba, is a dish of noodles in hot broth especially served on New Year's Eve. It's a simple meal that you can enjoy at home with family or friends.
Miso soup – the classic Japanese dish for decades
Miso soup is a classic Japanese dish which can be served with any traditional meal. It consists of fermented soybean paste and dashi stock bringing up a significant savory taste for the dish. Depending on seasonal recipes and personal taste that many ingredients such as tofu, sliced green onions, fish, clams, and pork can be added.
Sukiyaki – the typical Japanese hotpot in winter
Sukiyaki is a one-pot dish containing beef, vegetables, and tofu slowly cooked or simmered with a sweet soy sauce broth in a shallow iron pot. Sugar and mirin are often added to the pot. The ingredients tend to be dipped in a bowl of raw eggs after being cooked in the pot. Sukiyaki is known as the most perfect way to enjoy the incredibly tender and rich taste of wagyu beef. It is very suitable to enjoy Sukiyaki in the winter where most of the Japanese year-end parties are held.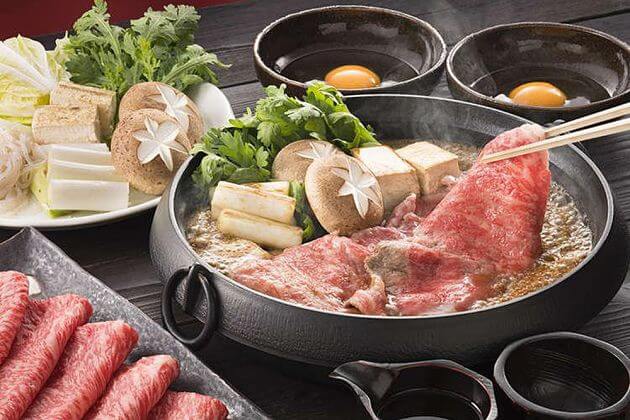 Kaiseki – the ultimate expressions of Japanese cuisine
Kaiseki, one of the most significant symbols of Japanese fine dining, is a traditional Japanese multi-course. It consists of small, seasonally themed dishes requiring precision and refinement. Its origins can be traced back many centuries ago in many tea ceremonies. Nowadays, kaiseki is usually served in specialized restaurants or Japanese style inn. Kaiseki meals have a prescribed order to their dishes which often starts with aperitif and appetizers. Some of the most popular main dishes are soup, sashimi, boiled dish, grilled dish, etc. Especially, the Shokuji set includes rice, miso soup, and pickles. And the meal can be finished with desserts and sweets.
Yaki Tori – the most common Japanese street food
Literally means 'barbecued chicken', Yaki Tori has been a traditional food since around the mid-17th century. The main ingredient is of course chicken but Japanese people make use of nearly every part of the chicken – from hear, liver to even a chicken comb. Bite-sized chicken pieces are seasoned with salt, rice wine, soy sauce or sugar then grilled on a skewer. The most common varieties are chicken thigh, chicken and spring onion, and chicken meatballs.
Unagi no Kabayaki – the highlight of traditional Japanese cuisine
Unagi no kabayaki is a popular eel dish that dates back to the Edo period. The name 'kabayaki' describes the cooking method, in which eel fillets after sweetened with soy sauce-based being broiled on a grill. The eel kabayaki with caramelize color is often served on top of a rice bowl then placed inside a tiered lacquered box.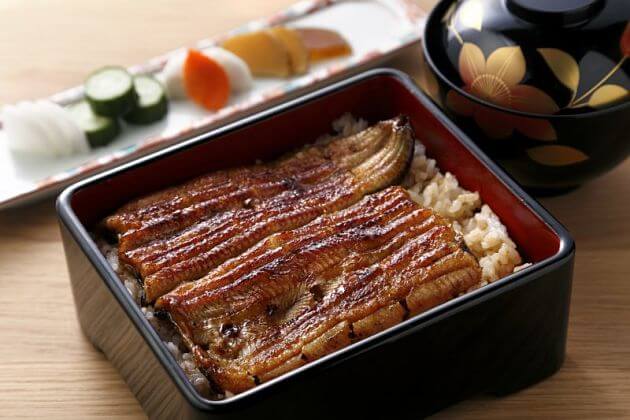 Wagashi – the special treat especially for Christmas
Wagashi, known as a traditional Japanese sweet changing depending on the seasons, is suitable to a Christmas make-over. It is created in festive shapes such as reindeer, Santa, holly leaves, puddings, and snowmen. The flavors inside embrace traditional tastes like red bean, burdock root, and green tea just to name a few.
Traditional Japanese Food for New Year Eve
Japanese New Year is an annual event with its own custom and the most important holiday in Japan. These days, Japanese culture is best expressed through Japanese significant cuisine.
Mochi – Delicious Japanese Rice Cake
Mochi, widely known as chewy rice cake, is a classic food well-suited to the Japanese New Year's Day. These little round shape cakes are common sweets representing Japanese culture. One of the traditional New Year's activities involves preparing the mochi on New Year's Day. Making mochi often takes time and requires a lot of effort though, people can buy them from many premade stores.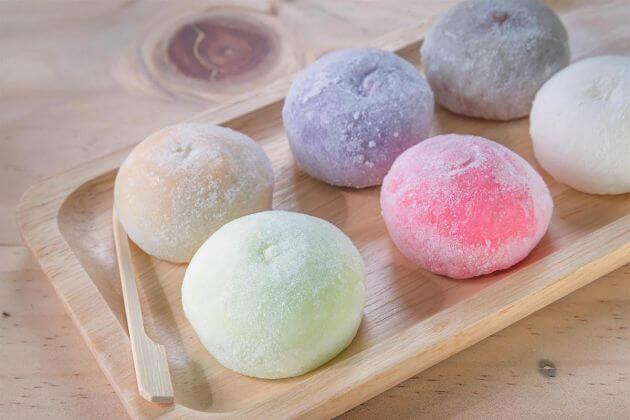 O-sechi ryori – Special Remark in Japanese New Year
O-sechi ryori is the significant feast for New Year's Day. Each element of the dinner carries its own message of wishing for luck, prosperity, and health for the new year. This annual tradition once required days of subtle preparation, but nowadays premade O-sechi ryori can be found widely in department stores and restaurants.
Best Traditional Japanese Dessert
Anmitsu – Traditional Japanese Vegetarian Sweets
Anmitsu is a Japanese parfait made of agar jelly. The agar is mixed with water or fruit juice to create the gelatin for the jelly. It is often served in the bowl with anko, boiled peas, and different kinds of fruits such as peaches, pineapples, cherries, and satsuma orange. Sometimes people also add mochi, ice cream, and nontraditional fruits like strawberries into the bowl as toppings. One small notice is you should pour a little sweet black syrup onto the jelly before eating.
Dango – Japanese Sweet Dumplings
Dango plays the role of a Japanese dumpling and sweet made from rice flour (mochiko). The best way to enjoy Dango is to taste it with green tea. Traditional Dango is best suitable in certain seasons while with normal ones are year-round. One of the most popular variety is the "Mitarashi dango" which comes with a sweet and sticky syrup.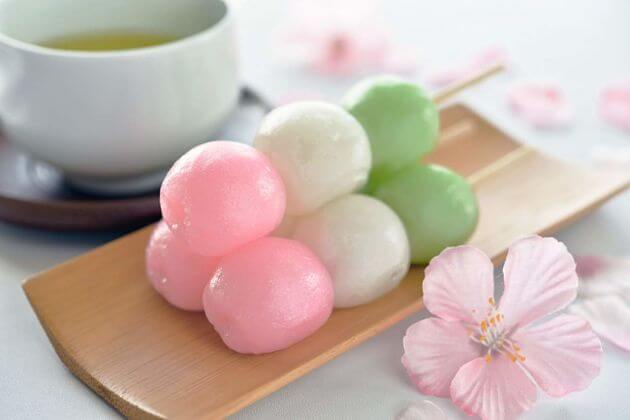 Daifuku – Tasty Mochi With Various Fillings
Daifuku is a typical Japanese dessert including small mochi balls stuffed with sweetened red bean paste -anko. There are many varieties of daifuku, most of which are palm-sized and covered in corn or potato starch to keep them from sticking together. The interior fillings also vary, the most popular ones include strawberries, sweet cream, apricot jam, pureed chestnuts, and even some trendy flavors recently like a coffee-flavored filling or crème caramel.
Dorayaki – Doraemon's Favorite Red Bean Pancake
Dorayaki is a red bean pancake with anko paste filling. Two small pancake-like patties made from Castella serve as a type of sponge cake which had origins from Portugal and continues to be popular today. Recently, the fillings are Nutella instead of the original sweet anko paste.
Taiyaki – Interesting Fish-shaped Cake
Taiyaki is such a common street food in Japan that has many reviews posted all over the Internet. It imitates the fish-shape and is a traditional pancake batter pouring into a fish mold. The fillings contain a variety of ingredients including anko, custard, matcha, chocolate, sweet potato, or even savory varieties such as sausage or cheese.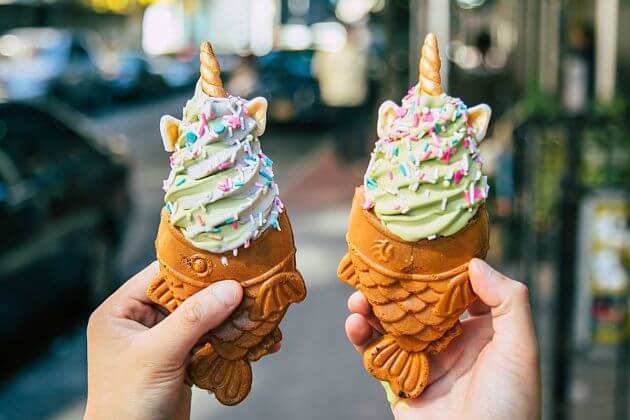 Famous Japanese Restaurants for Traditional Food
There are several traditional Japanese restaurants you should at least visit once when coming to Japan to best enjoy the authentic taste of Japanese cuisine. These are all picked by Japanese as special places embracing traditional Japanese fine dining.
Komakata Dozeu
This spectacular restaurant has been operating for more than two centuries. One step in and you would feel like you have stumbled into an Edo world where people sit on small cushions on top of tatami floors. You can enjoy Edo tastes through significant dishes that the restaurants are famous for such as Dozeu Nabe, Yanagawa, Kabayaki, and Dozeu Kara-age.
Address: 1-7-12, Komagata, Taito-ku, Tokyo, 111-0043
Sakura-nabe Nakae
Sakura-nabe Nakae has been running its business since 1905 at Yoshiwaraomon. This dish is a pot of horse meat which lists as a must-try when coming to the restaurant. Horse meat with low calories and low-fat mix with a sweetener and sesame oil. Besides, there are other delicious dishes available like sashimi or steak.
Address: 1-9-2, Nihonzutsumi, Taito-ku, Tokyo, 111-0021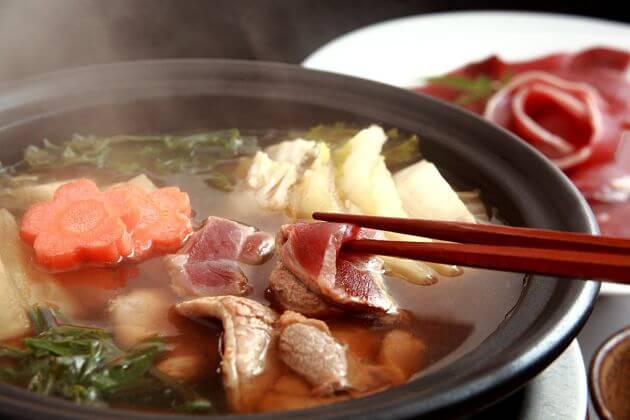 Kanda Yabu Soba
Famous for being one of the most popular restaurants to serve "soba", Kanda Yabu Soba can satisfy even the most sophisticated people. A recommended menu for soba gourmets is "Kamonuki" – a dish taking soba out from kamo (duck) soba that can stimulate your appetite. Kanda Yabu Soba has always been the best choice of Edo people not only for its significant dish but also for its hospitality.
Address: 2-10, Kandaawajicho, Chiyoda-ku, Tokyo, 101-0063
Asakusa Mugitoro
Asakusa Mugitoro born in 1929 where you can both enjoy delicious dishes and view the Sumida River and Komagatado. Because of its popularity, a long queue of people waiting for lines up in front of the restaurant. The buffet lunch is 1,000 yen in which you can enjoy a variety of food. For example, "Mugitoro" is a rich and healthy dish including plenty of grated yams mixed with secret broth.
Address: 2-2-4, Kaminarimon, Taito-ku, Tokyo, 111-0034