Climate is one of the most important things to create such diverse and magnificent landscapes that we see nowadays in Japan. The climate in Japan is mostly temperate but varies greatly from north to south. There are six climatic zones including Hokkaido, Sea of Japan, Central Highland, Seto Inland Sea, Pacific Ocean, and the Ryukyu Islands. Especially in Hokkaido, the northernmost zone, the climate is humid and continental with long and cold winters featuring deep snowbanks. In order to help tourists fully enjoy and explore Japan in the best conditions, our Japan Shore Excursions' expert is here to provide tourists essential information about the weather in Japan and our suggestion for the best time to visit Japan.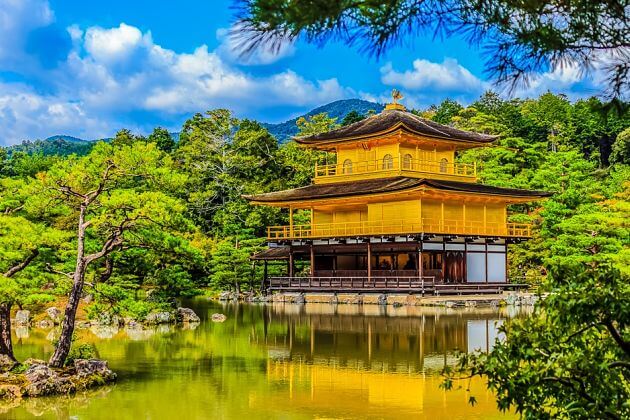 A Brief About Japan Seasonal Climate
There are four main distinct seasons in Japan including spring (March-May), summer (June-August), autumn (September-November), winter (December-March). Besides, there are rainy seasons (May-July) and typhoon seasons (August-September). Each season has its own remarks and so many to offer tourists.
Japan Weather In Spring
Spring season or often known as cherry blossoms, is the best time to visit Japan. The temperature is quite hard to predict as it swings greatly so make sure to bring both winter coat and warm-weather wears. The best time to see cherry blossoms in Tokyo is usually at the end of March or the beginning of April.
Japan Weather In Summer
Summer in Japan is when a variety of events and festivals take place with fireworks displaying across the country. That explains why summer is known as one of the most popular times to visit Japan. Its typical climate is hot and humid with an average temperature of 27.6 Celsius according to recent Japan Meteorological Agency data. If you come to Japan in summer, make sure not to miss these interesting festivals include the "Natsu Matsuri" and "Hanabi". Keep in mind that stormy weather due to typhoons may delay travel to and from Okinawa.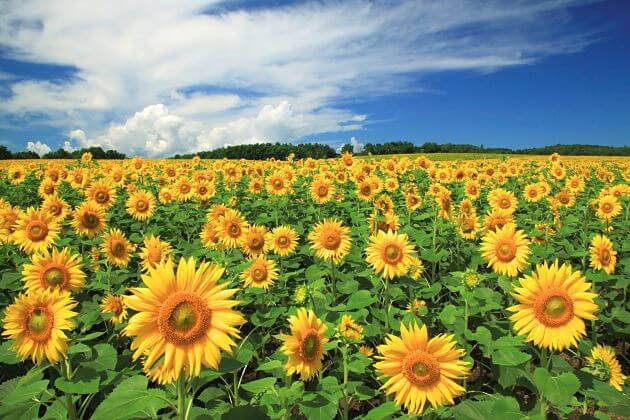 Japan Weather In Autumn
Autumn is another peak time to visit Japan. The same as spring, weather in autumn is fairly comfortable with low humidity and cool atmosphere. Autumn foliage is a real treat for travelers. November is the peak time when the leaves of deciduous trees turn to red and yellow, which attracts the largest crowds. There are several locations to view the brightly colored leaves but the best one is Arashiyama on the outskirts of Tokyo or the Japanese Alps on the island of Honshu. Many tourists choose to visit Nara Prefecture, Kyoto Prefecture, and Nikko City to enjoy the charming features of autumn. Autumn is also the time for many cultural events to take place.
Japan Weather In Winter
It is extremely cold in winter in Japan and there is no surprise that the temperature can fall below freezing especially from January to the beginning of March. There is a lot of snow in Hokuriku, Tohoku and Hokkaido areas where various winter sports and festivals take place. Winter is the cheapest time to visit Japan since you can avoid crowds and enjoy an economical trip. During this season, one of the most popular must-do things in Japan is visiting a snow-shrouded onsen, which offers a relaxing and refreshing time.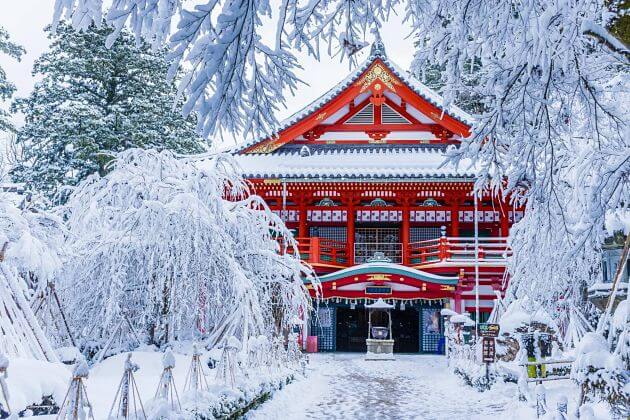 Japan Weather In Rainy Season
In most areas of Japan, the rainy season lasts from the beginning of June to mid-July. The rainy season is due to the collision of cold northerly and warm southerly air masses. Bad weather lasting for several weeks may prevent tourists from seeing the scenery and joining outdoor events.
Japan Weather In Typhoon Season
The typhoon season in Japan lasts from July to October, especially in August and September. It is likely to occur with heavy rain. For safety purposes, not many tourists travel to Japan at this time and consider it the worst season to visit Japan.
Top 7 Popular Travel Seasons In Japan
Cherry Blossom Season – Best Time Of The Year To Visit Japan
Japan is most famous for its stunning cherry blossoms. If you visit Japan, at least grab one chance to enjoy the appealing and fantastic pink scenery of cherry blossoms. You will feel like you have stumbled into a famous anime scene or as if you were in a magical fairytale. The blooming time depends on each year's weather condition so there is no certainty. But it is widely said that the best time to see cherry blossoms starts from late March to the beginning of April. Within just two weeks that the blossoms start to fall from the trees. In warmer sections, the blossoming is likely to be earlier. But in the cooler area like Sapporo, it does not begin until early May. Due to its attractiveness, Cherry Blossom Season draws a huge crowd to the country.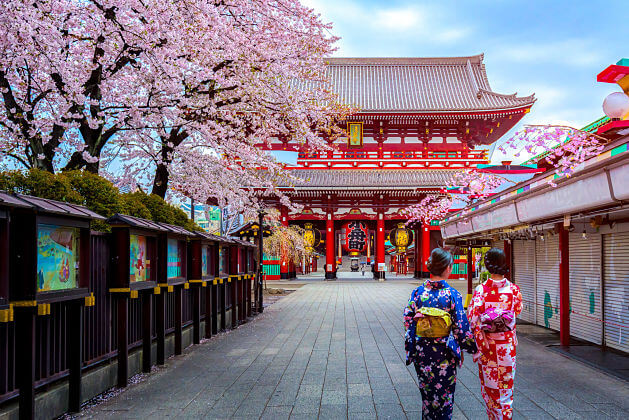 Ski Season 2019 – Best Time For Visit Japan For Skiing
Ski season is an amazing time to visit Japan and enjoy the snowy weather. The date for Ski Season varies depending on each particular resort and weather conditions. But it usually takes place from mid-December to early April. Various winter sports and events are held, so make sure not to miss the chance to participate and enjoy the impressive landscape of snow mountain. Many ski resorts even offer hot bathing (onsen) which will help customers relax after a long active day.
Japan Summer Festival Season 2019 – Ideal Time To Visit Japan
Participating in a traditional Japanese Summer Festival is said to be a must-do when people visit Japan. The Summer Festival Season in Japan often involves massive parades and stunning firework performances. These festivals often last from Jun to the end of August. This is known as one of the best times to experience Japanese culture as visitors will be able to take a closer look at how the Japanese dress in the festival, which kinds of traditional dances they are performing and try some significant local food and drink. Some of the most famous summer festivals in Japan include Aomori Nebuta Festival (2nd-7th August) in the Tohoku Region, Shonan Hiratsuka Tanabata Festival (5th-7th July) in the Kanto Region, Fuji Five Lakes Fireworks Festivals (1st-5th August) in the Tokai & Chubu Region, Gion Festival (1st-31st July) in the Kansai and Shikoku Region and Hakata Gion Yamakasa (1st-15th July) in the Kyushu Region.
Obon Festival 2019 – Right Time To Visit Japan
Obon is a Buddhist custom to honor the spirits of one's ancestors in Japan. This festival often takes place around mid-August and involves a flexible day or two off around this timing for the Japanese people to take a family union. Although some things may be closed at this time, Obon Festival is a perfect time to visit Japan as visitors can fully relax and enjoy the well-worth peacefulness.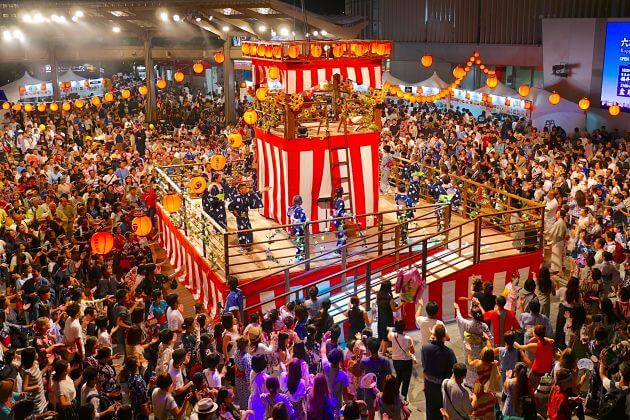 New Year Holidays – The Most Crowded Time To Visit Japan
To some people who are not very pleasant with the crowds, the New Year Holidays in Japan might be considered as one of the worst times to visit Japan. This is the time when visitors can hardly go sightseeing as there is an ocean of people, especially in temples and shopping centers. Japanese has the tradition of going to temples to pray for luck, happiness, and health for the new year. And there are big sales taking place in almost every shop making these places packed with a huge amount of people. But as long as you are well-prepared and enjoy the bustling atmosphere, this might be the best time to experience traditional Japanese culture as well as get yourself some qualified goods at very affordable prices.
Golden Week – Peak Time To Visit Japan
Golden Week often happens at the end of April and beginning of May. This is the time when many Japanese locals go on vacation. Transport and tourist sites are expected to be extremely busy during this period but you can still enjoy traveling in Japan if you ensure to book accommodation in advance and expect higher prices.
Japan Autumn Foliage Season 2019 – Most Suitable Time To Visit Japan
If Japan is stunning with the pink color of cherry blossoms in spring, it is even more gorgeous in autumn with breathtaking views of golden and red hues. Huge crowds are expected but don't miss this wonderful time just because of that reason.
Japan Travel Tips In Peak Season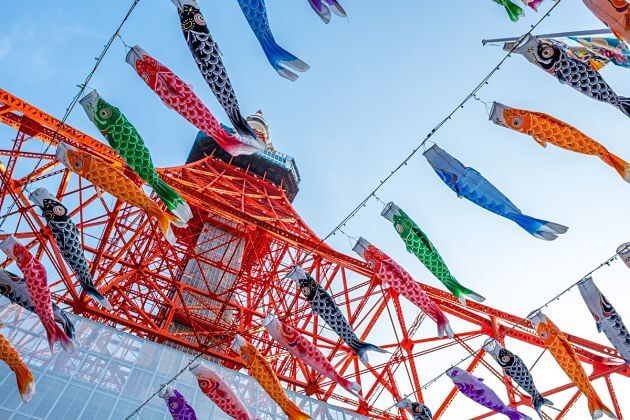 The best time to visit Japan can be the most crowded time that many people afraid of. Based on our experience, Japan Shore Excursions' team is here to give you advice on how to best enjoy your traveling and avoid crowds in Japan, especially in the peak seasons.
Avoid Peak Time
The easiest way to avoid crowds is to choose unfamiliar timing. For example, to avoid crowds in Mt. Fuji, the best way is to avoid sunrise when you can best view the mountain. Instead, you can arrive at the summit during midday or the afternoon and experience hiking and a calm atmosphere. As weekends are often busier and hard to travel, the best time to visit famous sites is during the week.
Be An Early Bird
Save your time by starting your day earlier so as to be more well-prepared and able to avoid crowds. Some public sites can be seen clearly if you come there soon. Other attractions which involve opening hours, you might also want to get there as soon as it opens.
Discover The Unkown
Japan is full of beautiful sites and many of them are not very well-known to tourists, you can explore yourself and visit the worth-seeing mountains of the archipelago, magnificent seascapes and the charming features of small quiet cities.
Best Time To Visit Tokyo
When To Visit
Tokyo attracts visitors throughout the year. A lot of rain is expected during June, September and October, averaging about 180mm each month so make sure to bring your umbrella during these times. Even the driest months in Tokyo experience about 50mm of rain. From December to March, the weather is mostly chill with the average temperature of around 6°C, though the temperature rarely drops below freezing. Summer in Tokyo is hot and humid, the average temperature is around 20 – 24°C(68-75°F). The best time to visit Tokyo is late spring (from March to May) and late autumn (from September to November).
Where To Go
Tokyo is one of the most famous cities in the world with full of well-known attractions. See more at best places to visit in Tokyo or discover further in Tokyo shore excursions.
Best Time To Visit Hakone & Mt. Fuji
When To Visit
Located less than 100km from Tokyo, Hakone has the same climate as in Tokyo. However, the temperatures are quite lower and have more rainfall year round. In summer, due to the high humidity, many citizens choose Hakone as an ideal location to escape the steamy city and get some fresh mountain air.
What To Do
Hakone is known as one of the best places to view Mount Fuji. In clear day visitors can view the mountain clearer and the cooler months offer more chances of seeing the prominent mountain. You can take a look at things to see & do In Shimizu which also suggests what to do in Hakone.
Best Time To Visit Hiroshima and Miyajima Island
When To Visit
The climate in Hiroshima and Miyajima Island is temperate so you can visit at any time of year. The climate tends to be hot and humid in summer while it can be cool or cold during winters. The rainy season starts from mid-June to late July but not almost every day. The two best times to visit Hiroshima and Miyajima are in fall (October-November) and spring (March-May).
What To See
Visitors can check out our top tourist attractions in Hiroshima or discover further in Hiroshima shore excursions.